necklaces to buy under 20 Pounds – Necklaces are one of the main jewelry that we can come across. At a party, you must show yourself well. You get dressed up and adorn your hands with bracelets. Of course, don't forget your earrings. You take a reflection of yourself. Perfect? Do you sense a problem?
Your neck is too uninteresting. You take out a necklace that goes with the clothing and start thinking of a solution. You now understand the significance of this classic piece of jewelry. How it merely raises the bar for your appearance as a whole.
However, you must be aware of how various necklace styles complement various fashions. There are plenty of them today. And to satisfy the needs, our cozy store has them all on hand. Whether it's a Pearl necklace or the iconic Pandora necklace. We have the best to give you. We are all familiar with these jewelry items' attractiveness. They came up with an enticing total.
You could choose one that sparkles. If that's the case, we are still aware of this. We deliver polishes and stannic necklaces to you. either a sterling silver or a gold necklace. Everything is covered by us. Or maybe you want to give it a little personality? We have everything you need if that is the case. Your desires will be met with our custom jewelry.
Additionally, our shop offers you enticing evil eye necklaces. You could even use our pride to demonstrate your support. You'll be completely shocked by our variety. When combined with the services we provide, it's a fantastic deal. Grab it before you regret it.
Thus, be ready to have a look on the best ever necklace pieces and designs that you can ever come across. The best part is that all of them are best necklace designs under 20 pounds. Isn't it amazing? Yes, obviously.
So here we go with the most amazing necklaces and that too in the most affordable range that is just 20 pounds.
BEST NECKLACES TO BUY UNDER 20 POUNDS
Colorful White Sunflower Charms Choker Summer Necklace
Make your summer even more brighter. Give yourself a shiny and catchy look with this imposing colorful white sunflower charms choker summer necklace at just £14.99. Isn't is marvelous? Yes of course, it is.
The best neckwear in town is what we at The Colorful Aura present to you. Give your loved ones colorful Aura jewelry for Christmas and Thanksgiving. Wear these accessories for Halloween and the New Year. During the Black Friday Sale, grab them at a great price. Choose our jewelry to get people's attention. Lucky Necklace, Trendy Silver Choker, Everyday Choker, Stylish Choker for Women, Summer Choker, 925 Sterling Silver
Choose some of our fashionable jewelry to attract attention. Your jewelry collection can benefit greatly from the addition of this adorable Necklace. Any outfit will go perfectly with it! Check it out on and grab this astonishing and the most unique necklace that you can ever come across. Order before the stock fades.
Colourful White Sunflower Charms Choker Summer Necklace, Indie Boho Daisy Floral adjustable Necklace, Gold Beach Choker Floral Pendant – The Colourful Aura
Black Lace Triangle Gothic Choker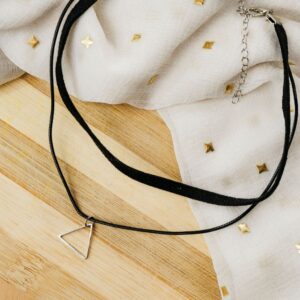 This triangle pendant encompasses a triangle's perimeter and all ready to give you a super classy and catchy look. The triangle needs no additional embellishments to make it look presentable. The length of this necklace is 43 centimeters. Additional adjustment of 5 cm is also available. With us, accommodating has become simpler.
Lace is used in this handcrafted necklace to keep the charming vintage look. It is not necessary to wear this jewelry on a special event. Any style may be worn with it and still look good.
Rocking the gothic emo look is all about this choker, which has a retro touch.You can pull it off with a little assistance from us and a vintage emo Gothic choker necklace.
Make this staggering necklace yours just at £12.99.
Thus, what to wait for? Order it now. Black Lace Triangle Gothic Choker, Victorian Gothic Vintage jewelry, layered Emo Necklace
Statement Lotus Chain Choker Necklace
The Colorful Aura brings you the top neckwear that you can not experience anywhere else. Give your loved ones colorful Aura jewelry for Christmas and Thanksgiving. Wear these accessories for Halloween and the New Year. During the Black Friday Sale, grab them at a great price. Pick one of our pieces of jewelry to draw attention. A necklace is a fashion item worn around the neck.
A chain or other thin material is one of the many parts that make up a necklace, which may also have pendants, beads, and tassels as additional components. Most of them are designed to fit close to the neck and are long enough to go over the head. They occasionally hang below the chest.
A lot of loving features of this piece is going to blow your mind at the very first instance. So what to wait for? Be ready to look catchy in the crowd. Order it now and ensure being updated with the latest trend.
Statement Lotus Chain Choker Necklace, Indian Oxidized Boho Choker Temple Necklace, Large Bohemia Vintage Ethnic Gypsy Silver Necklace – The Colourful Aura
925 Silver Sterling Wave Zig-Zag Necklace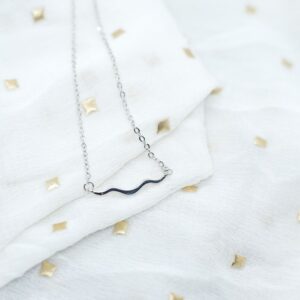 Do you ever like to start your day off a little excited? Perhaps you're looking for the ideal accent to provide some variety. If so, you might want to think about including a necklace with an astonishing wavy and zig-zad design that perfectly goes with your outfit.
The adaptability offered by this mind blowing necklace is its best feature. They can be layered beneath formal attire for added style points or worn simply with jeans and a t-shirt!
Due to its small size and lack of bulk, this type of jewelry is perfect for any occasion. There are countless ways to wear them. So why are you still waiting? Get one for yourself right now!
This necklace is sufficient enough to add sparkles to your personality. The most classy necklace that you can ever come across is available at 'The Colorful Aura' at just £20.00.
Check this out and order this trendy and super classy necklace as soon as possible.
925 Silver Sterling Wave Zig zag Necklace, Silver Minimalist Necklace, sea surf necklace– The Colourful Aura
Cowrie Shell Choker Necklace

A layered necklace is a piece of jewelry that is frequently used as a fashion accessory and has two or more different types of chains or strands. The necklace's various components are often fastened together with a tiny clasp.
It is a classic piece of jewelry that goes with anything, including dresses, cardigans, and more! If you've been searching for the ideal accessory to complete an outfit, use a layered necklace.
Choose our jewelry to get people's attention.
The inner strand of the necklace is 42 cm long, and the outer stand is 50 cm long. Each item is genuinely a one-of-a-kind and sentimental present because it is made with love.
So give up holding back your wants. Get this striking necklace for £17.99.
Cowrie Shell Choker Necklace, Summer Beach Boho Necklace, Minimalist SeaShell Jewellery – The Colourful Aura
CONCLUSION
The best designs and materials are always prioritized by The Colourful Aura' in order to capture the viewer's attention right away.
We are sure that the above designs had surely blew your mind but let us tell you that these are not the only designs.
They were just a reference. Check out the virtual gallery of such amazing necklaces at the website of 'The Colourful Aura'. You will be confused which to buy and which one to leave.
The necklaces are not only going to give you a show stopping look but is also going to comfort your budget.
Thus make sure you visit them and get the best ones for you and your special ones.
Follow us on Instagram for exiting offers and updates