10 AFFORDABLE AND DURABLE STAINLESS STEEL RINGS FOR COUPLES
STAINLESS STEEL RINGS - 
For thousands of years, rings have been an important piece of jewelry. Rings remain one of the most popular types of jewelry today, worn for a variety of reasons.
Rings have symbolic significance. Rings are frequently used to symbolize love, commitment, and marriage. Engagement rings and wedding bands, for example, are symbols of commitment between two people in a romantic relationship. Other types of rings may also be given as a gift to represent a special bond or friendship.
In this post, we will take you to the finest rings ever made up of the finest quality of stainless steel rings with the trendiest and unique designs. 
Before getting acquainted with the unique stainless steel rings by The Colourful Aura, let us firstly take a look into the reasons why we should opt for stainless steel rings over others? 
After that we will look into amazing stainless steel designs offered by the best online retailer of handmade jewelry that is The Colourful Aura. 
Why Should You Opt For Stainless Steel Rings?
For good reason, stainless steel rings are a popular choice of jewelry for many people. Here are some advantages of stainless steel rings:
Hypoallergenic
 Because stainless steel is hypoallergenic, it is unlikely to cause an allergic reaction in most people. This makes it an excellent choice for people who have sensitive skin or allergies to other metals.
Highly Durable
 Stainless steel is a highly durable and long-lasting material, making it ideal for rings that will be worn on a daily basis. It is corrosion, tarnishing, and scratch resistant, so it will retain its appearance over time.
Affordable
These rings are frequently less expensive than other metal jewelry, such as gold or platinum. This makes them an excellent choice for those looking for a long-lasting and fashionable ring without breaking the bank.
Wide range of styles and designs
 Stainless steel rings are available in a wide range of styles and designs, from simple and understated to bold and intricate. This means that a stainless steel ring is available to suit any taste or style preference.
Very low maintenance required
 Stainless steel rings require very little maintenance, as they do not need to be polished or cleaned as often as other metals. They are also easy to clean with soap and water.
Overall, stainless steel rings are a popular choice for many people who want a long-lasting, hypoallergenic, low-maintenance, affordable, and fashionable piece of jewelry.
 Best 10 Affordable And Durable Stainless Steel Rings For Couples You Must Buy In 2023 Styling Season 
Now that we have seen the benefits of stainless steel rings, you must be thinking of buying one for you too. If you are looking for an amazing and lovely couple rings in stainless steel material, then let us show you the 10 best stainless steel rings that you must buy in this styling season!
Here we go!
Stainless Steel Couple Golden Wedding Band Promise Ring set
These rings, too, have a dazzling shine of their own. Giving off a luster and shine, which is common in modern accessories. The design of these couple's rings is absolutely stunning. The rings have a sterling silver band. This means that we provide a variety of sizes. Choose the size that is most comfortable for you.
The rings are not only available in polished silver, but also in a contrasting color. The band width of both rings distinguishes the His and Her rings. Because the interior of these silver rings is golden rather than the expected gray luster. 

The frame of these two rings is not only available in silver. Instead, the contrasting frame wall is made up of the interior golden. The ring has a thin circle on the upper and lower frames.
The ring has an exceptional dazzle, leaving no doubt about purchasing these adorable rings.
Stainless Steel Silver Couple Moon and Sun Matching Promise Ring Set
This pair of rings' design eliminates any doubt about purchasing them. It provides a clear yes and yes answer. The polished and white surface of sterling silver rings reflects. This ring set is also available in black for you.
Handmade with a loving touch and altruistic intentions. On either of the rings, the metallic base has engravings of the moon and sun.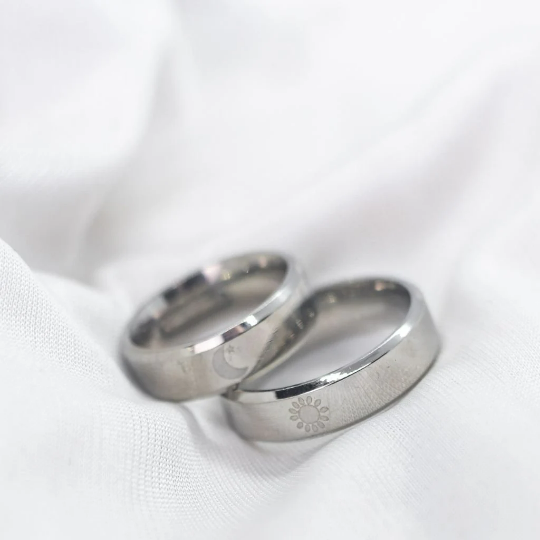 These designs are also used as a promise and loyalty symbol between couples. Beautiful base in a round, circular shape.
Fashioned in a contemporary minimalistic style. Adding a pop of color to your outfit and making you stand out in the fashion crowd. The rings are absolutely adorable, acting as a substitute version of your loved ones.
Stainless Steel Couple Moon and Sun Promise Wedding Band Ring Set
This ring has a very distinct and appealing design. The ring features a beautiful sun and moon design. The ring is made of silver, which gives it a very luxurious appearance.
 Who doesn't appreciate a good pair of rings to complement their outfit while also commemorating their relationship?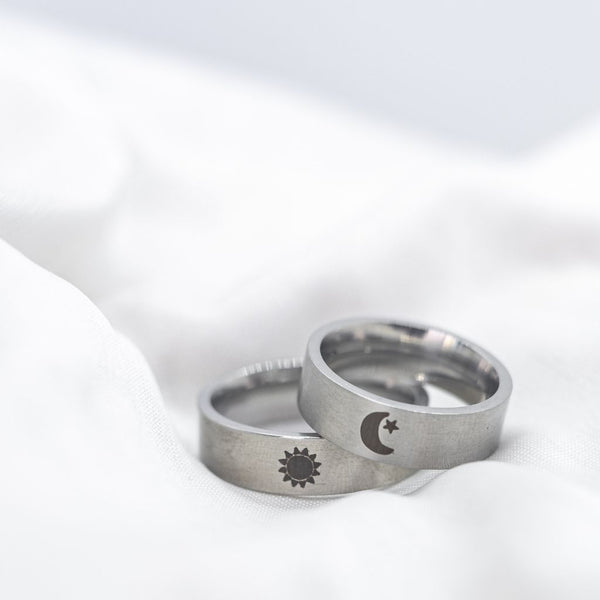 We understand that buying a ring can be difficult due to the ring size issue, but we have solved this problem by providing you with adjustable rings.
 Don't put off purchasing this couple ring for yourself and your loved ones this Valentine's Day. Purchase this ring before it sells out!
Stainless Steel Couple Black Rose Gold Wedding Band Promise Ring Set
We have curated a very alluring and classic "his and her zircon couple ring" for our couples who need some love and commitment in their relationship.
 The ring is an excellent addition to any jewelry collection. The ring is entirely handcrafted with meticulous attention to detail.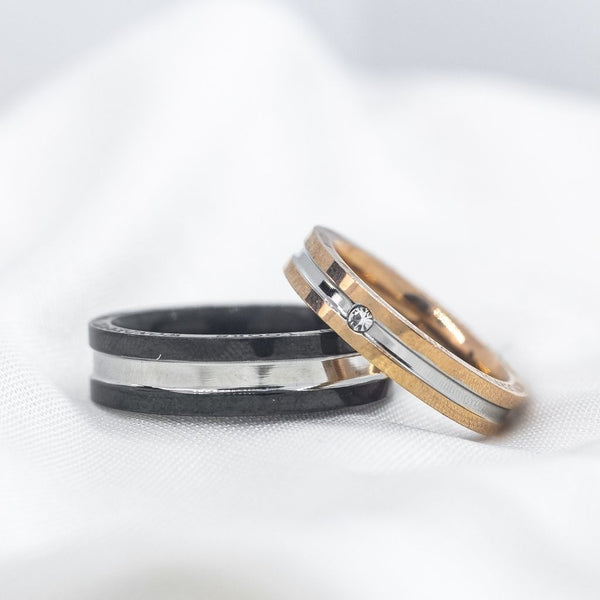 The ring has a very elegant design and cut that adds a lot of style to it. The ring is made of stainless steel, which adds to its beauty.
 A zircon gemstone has been added to the ring. The rings are stunning in black and gold. The ring will look great with all of your outfits, whether they are casual or fancy. You can show off your relationship with these rings.
Stainless Steel Couple Rose Gold Heart Zircon Band Promise Ring Set
Not only is the material beautiful, but so is the design of this ring. The His and Her rings are easily distinguished at first glance. Which focuses on the engraved portion of the ring. 
On one ring of the silver circular band, a semi-heart is engraved. This ring, the ring for him, has a black engraving.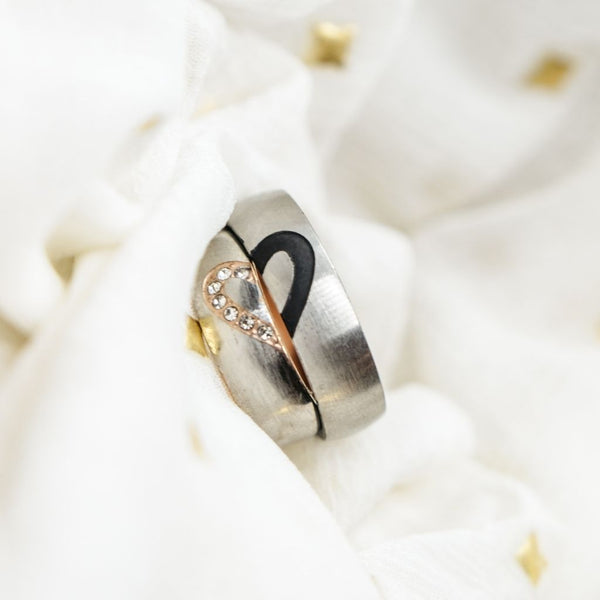 Her ring, on the other hand, is more delicate. It, too, has the same gleaming surface and semi-heart engraving as the previous one. However, instead of black engraving, it is rose gold in color. And it doesn't stop there. 
This semi-heart is Rose-gold, and it also has tiny white stones attached to it. These stones are simply Zircon stones attached to her rose-gold ring.
Stainless Steel Yin and Yang Matching Couple Promise Band Ring Set
This ring has a very distinct and appealing design. The ring features a yin and yang design that represents balance, unity, and peace.
 The ring is an alluring black color, and it is made of silver, giving it a very luxurious appearance. Who doesn't appreciate a good pair of rings to complement their outfit while also commemorating their relationship?
We understand that buying a ring can be difficult due to the ring size issue, but we have solved this problem by providing you with adjustable rings.
 Don't put off purchasing this couple ring for yourself and your loved ones this Valentine's Day. Purchase this ring before it sells out!
4mm Mens Slim Stainless Steel Fadeless Plain Engagement Couple Band Ring
This black Tungsten ring measures 8mm in width. Of course, we provide our customers with a variety of options. The black band ring is available in a variety of sizes to suit your needs.
Don't want to be limited to black? We also have a solution for that. 'The Colourful Aura' sells the ring in a variety of colors. White, black, and a deep blue color scheme. The dark color makes the ring appear darker.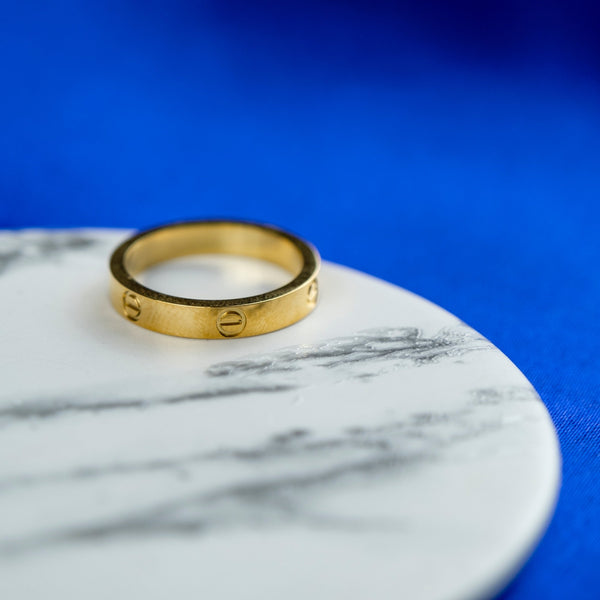 Handcrafted from tungsten, which is known for its extreme durability. The thick tungsten is convenient for everyday use. A ring that is resistant to normal wear and tear. A solid thumb cuff with a thick base.
6mm Mens Black Rotatable Spinner Stainless Steel Promise Ring
We make it easy for you to choose sizes by offering adjusting and different size options. The primary color is silver. However, for variety or as a choice, we also offer this ring in the dark, black color. A diverse selection to help you improve your appearance.
This does not only include rubber balls, but also anything that draws your thoughts out. Do you recall the fidget spinner craze? That trend may have passed, but a Spinner is always something to consider.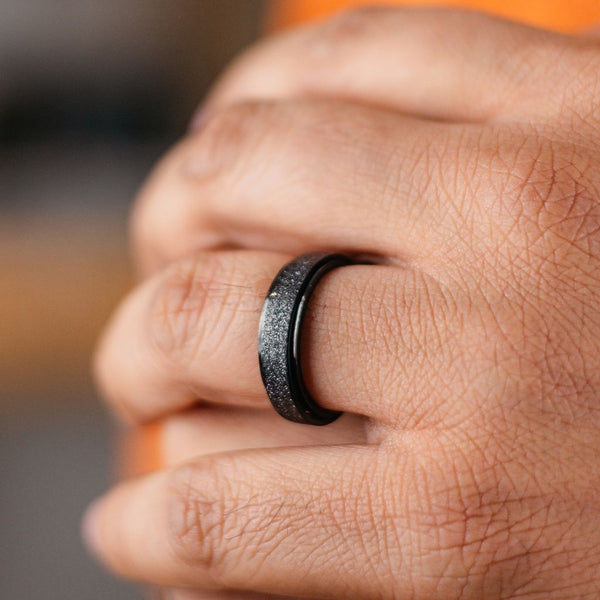 The ring we brought today also has a rotatable Spinner band. A decent and elegant design with gleaming silver. Purchase this stress-relieving ring for yourself. A useful accessory that combines fashion and function.
8mm Mens Matt Black Engagement Spinner Tungsten Wedding Ring Band
The rich black color is ideal for achieving a bold look. With its tough endurance, it is suitable even for daily use. Tungsten metal is well-known for its high endurance. As a result, our ring is no exception.
The ring is ideal as a wedding or engagement present. Combine this piece with an overall minimalistic look.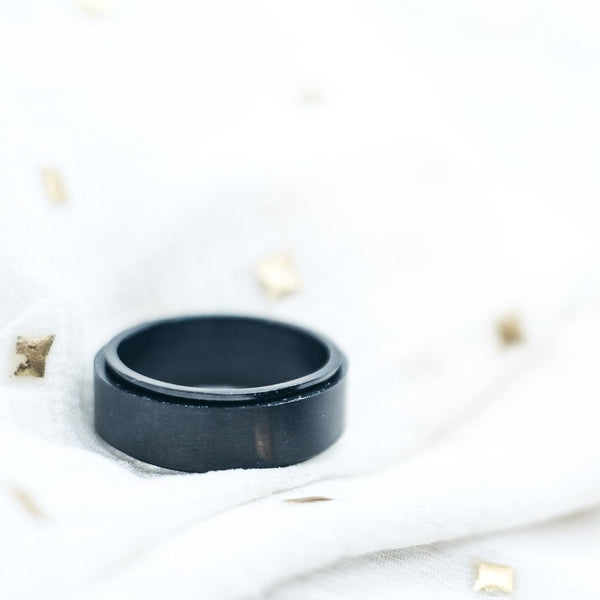 With strong modern vibes, this accessory will be a great addition to the fashion flow. The ring's dark and deep black band color does not make it a practical piece of jewelry for your wardrobe.
The products offered by 'The Colourful Aura' are entirely handcrafted. These accessories we have to offer are of the highest quality and are suitable for a variety of occasions. 
6mm Mens Silver Tungsten Engagement Wedding Band Ring
For you, an exquisite sterling silver round and polished ring. Made entirely of gleaming silver. It sits delicately on your finger. Ring size is adjustable. The ring looks absolutely stunning and contrasting with each other when combined with a minimalistic touch. This man's ring appears to be substantial and chunky. A daring look for your ensemble. A 6 mm wide band.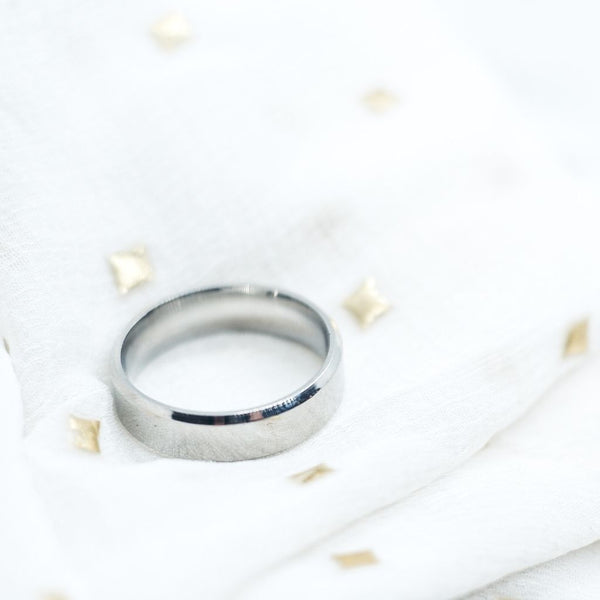 Handmade with silver as the primary material. A fantastic haul for a wedding or engagement ring. Making you glow by giving it a minimalistic style to go with modern fashion.
There's no room for regret with this chunky silver men's ring. The design and craftsmanship of this ring. They are all of high quality and made of silver.
Conclusion 
The ten stainless steel couple rings mentioned above are part of our amazing stainless steel rings collection. We'd want to point out that while they undoubtedly touched your heart, they weren't the only rings we owned.
Stainless steel rings in amazing collections are impatiently awaiting your arrival! If you want to treat yourself to the best handcrafted jewelry ever, don't forget to browse through The Colourful Aura's fantastic selection!
For the most reasonable prices, upgrade your wardrobe with the hottest trends and designer jewelry!
Happy styling!