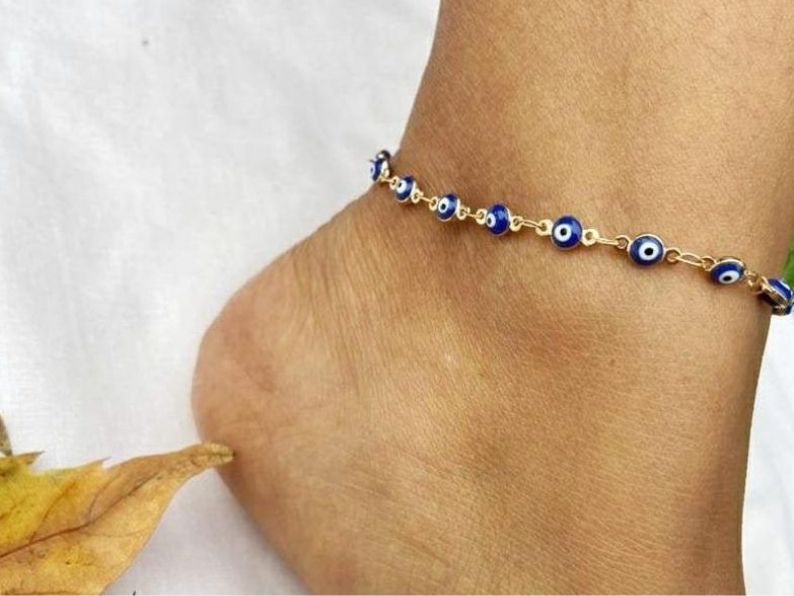 An anklet is sort of a bracelet that you wear around your ankle. That is why anklets are at times just called ankle bracelets. These are available in various styles, from modest and elegant to bold and flashy. They look incredible with cropped trousers and pants, also they go super cute with skirts, shorts and dresses. Whether you wear flats or heels, an anklet can often take your clothes to a whole new trendy level. They are gorgeous, a small jewel that is delicate, but when noticed, very alluring. Some individuals also say that whenever you put on an anklet, each step you take repels all the negative vibrations and energy and gives positivity to everyone around you.
Fashion trends are ever-changing and you must be wondering if anklets are still in trend today. Ask when they are out. It may be hard to often stay in the ever-changing fashion trends but these are something that will never be out of fashion.
CHAIN ANKLETS
These are extremely versatile and usually relatively modest. They can be donned with simple clothes and also with festive ones. You can pick a single chain anklet or can go for a layered one. Chain anklets are also available with pendants or colourful beads in them to give more interesting details, but the most prominent ones are only plain and elegant chains, with or without layers.
CRYSTAL ANKLETS
Crystal anklets are one of the most elegant anklet types, thanks to their heavy similarity to expensive diamonds. These twinkles and sparkle, giving your apparel a luxurious vibe. A crystal anklet is a promising pick for a cocktail evening or a night out at a club.
LAYERED ANKLETS
Layers are an enormous jewellery trend at this moment. Layered necklaces and rings can be seen by many fashion influencers all around the world wearing them, and the same is true for anklet. If a contemporary look is what you are going for, a layered anklet is what you need.
BEADED ANKLETS
Beaded anklets are simple and playful. They are generally colourful but can also be found in pastel and neutral colours as well. Beads can be made of several materials, for example, natural stone, crystal, resin, and metal.
These go good with simple outfits on summer days. They are moreover a tremendous accessory for summer beach days since beaded materials generally withstand water very well.
SIMPLE ANKLETS
Simple anklets are incredible to start with. They are delicate, at times very delicate, and can be worn at various events. It is something no one can resist themselves from buying. The modest design and outlook make it simple to blend with other jewellery.
At The Colourful Aura, we bring to you an exclusive range of anklets for every occasion. With a minimalistic design and boho-style look anklets at The Colourful Aura are worth drooling over.