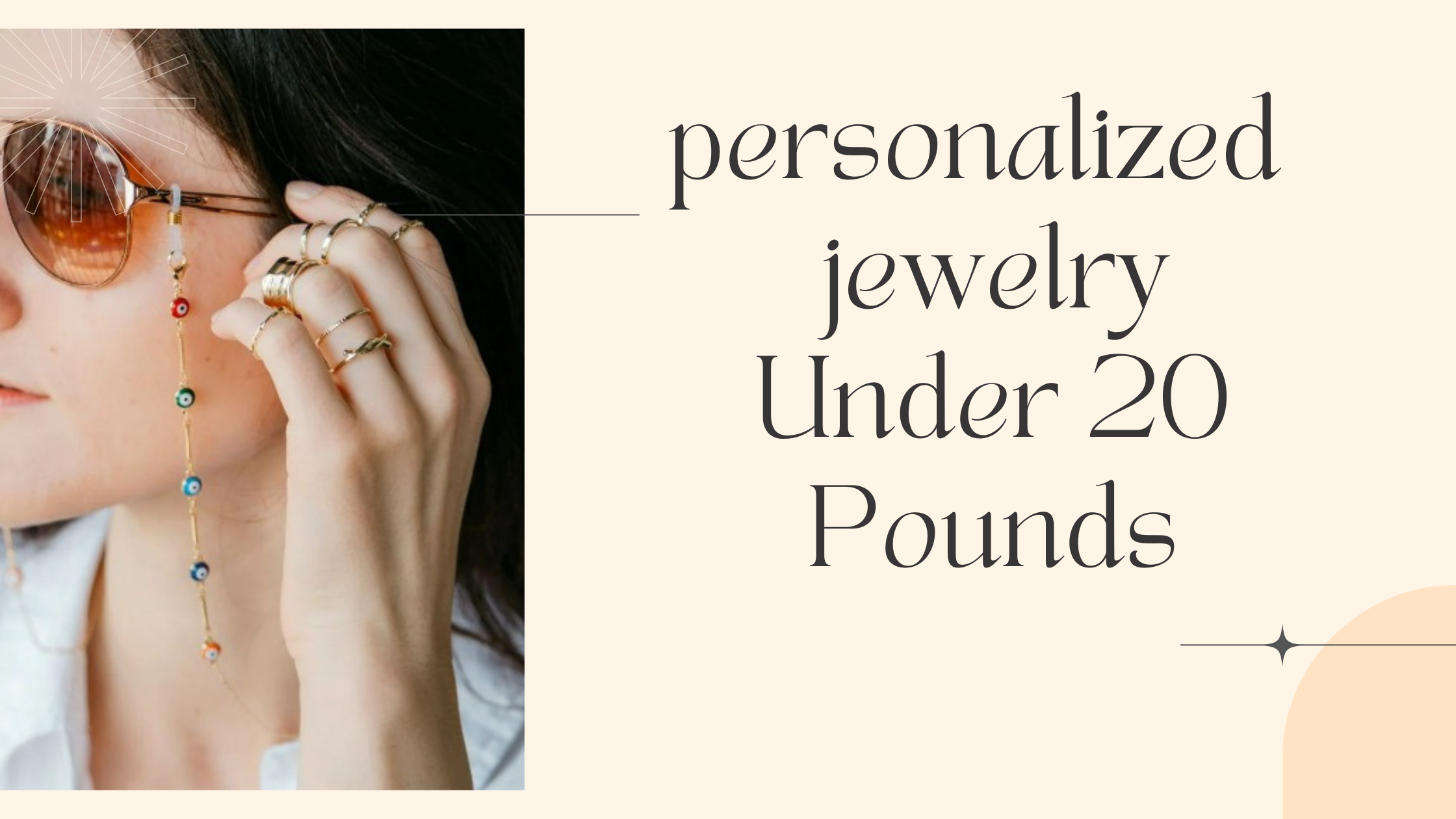 personalized jewelry under 20 Pounds – Are you searching for the best personalized jewelry that is affordable too? Yes? Amazing.
Here we are going to show you the most stunning personalized jewelry under 20 pounds. Do not skip the post else you will regret later of not getting the most amazing jewelry pieces at such a feasible rate.
We'll introduce you to the UK's top maker of handcrafted, personalized jewelry. Along with that be ready to have a look on the top most designs of personalized jewelry under just 20 pounds.
TOP PERSONALIZED JEWELRY UNDER 20 POUNDS
'The Colourful Aura' is the top-selling brand of fake jewelry and other goods for ladies. There are plenty of jewelry items available in a wide range of styles, sizes, colors, and shapes. Speaking especially of anklets, many new anklet-related items have been introduced to the cart.
They won't just win your heart; they'll also make your wallet feel better. The most exquisite jewelry is offered by "The Colourful Aura" at the best price. Many of these incredible items are also available at this store at special savings.
All you have to do is visit the website for "The Colourful Aura." You will be taken to some of the highest quality handicrafts you have probably never seen before. That too in the most luxurious and reasonable price range.
Let's introduce you to the producers. The little artists of the United Kingdom produce these heartwarming items. The business is headquartered in the UK. Every item, including every piece of jewelry, is crafted by artisans with the highest care and love.
Now, let us to demonstrate some of the most amazing crafts from this bestseller:
CUSTOMIZED BLM BROOCH
first one in the list of Personalized Jewelry Under 20 Pounds – There are countless options available at "The Colourful Aura," from tiny nose pins to large, distinguishing house plaques. If you're looking for high-quality, personalized jewelry, you've come to the perfect place.
Being informed about current global events, it is our responsibility to support the movement. the the persistent protests in favour of "black lives matter." We have introduced a personalised brooch for our clients as a way of raising awareness on our end.
You have a pin-on brooch that is simple to pin. The golden pin has charms dangling from it. The slogan "BLM" is abbreviated on the charms. Add more to it to create a "Black lives matter" phrase.
An eye-catching badge to complete your appearance. You have complete discretion on the charm's color. Put your own stamp on it. Do you want to add more charms to your brooch to make it more decorative? If so, send us a separate message. We will carry out your request with an added fee!
Black Lives Matter Brooch, BLM Pin Badge, Personalised BLM Badge, BLM Movement protest Pin, Cutomized Blm Brooch, Charity Pin – The Colourful Aura
FLORAL FACE MASK CHAIN
The second one in the list of Personalized Jewelry Under 20 Pounds – Daisy sunglasses chain holder crafted by hand. It serves as a decorative accent for your mask or even your glasses. This chain has a really bohemian appearance and will go well with all of your clothes.
This chain is ideal for adding boho style to your ensembles while maintaining an attractive quality. The three color options for the chain are turquoise, yellow, and white with gold plating. Additionally, chains come in a range of sizes that you can modify based on your need. The chain also contains metal alloys to keep it out of the water and avoid tarnishing.
For every lady who likes flowers and wants to appear fashionable, this is the ideal present. Give this to someone whose life is about to take a new turn.
Floral Face Mask chain, Summer Mask Holder Necklace, Glasses Chain for women, Detachable chain for Mask & Glasses, Floral Mask Holder Strap – The Colourful Aura
LARGE EVIL EYE KEY CHAIN
The Third one in the list of Personalized Jewelry Under 20 Pounds – As the name suggests, this keychain is your new charm for protection. Finally, a Hamsa hand charm. But what exactly is a Hamsa hand? For those who are unaware, it is a talismanic emblem that people believed would shield them from danger and the evil eye in the past. And bestow upon them goodness, wealth, procreation, good fortune, and health. A charming charm of the hamsa hand completes the keyring's chain. The chain is 11 cm long in total.
Thus, check this out and buy the most amazing jewelry article for you and your loved ones.
Hamsa hand keyring, Large evil eye key Chain, Protection Nazar Turkish Greek keychain, Greek evil eye keyring, Fatima Hand Devil Eye keyring – The Colourful Aura
PERSONALIZED EVIL EYE NAME CHOKER NECKLACE
The Fourth One in the list of Personalized Jewelry Under 20 Pounds – Double-layered necklace in a gold color. The choker chain is available in the size of your choice. Pick the size that best fits you personally. First personalization. The inner chain's large, neck-hugging size makes it function as a choker. The outside chain, however, is slack and extends a few inches. Both the inner and outer ones' size combinations are selectable. comes with three dangling initial charms. Select the three letters that can be personalized a second time and are on the outer chain.
This simple necklace was crafted by hand. The chain was created from metal alloys and personalized for your comfort.
Show up your accessory by giving it a unique color. Additionally, you can personalize your evil eye jewelry. This initial necklace is a thoughtful gift or personal memento. With a flick of your own magic, every detail becomes intriguing.
Personalized Evil Eye Name Choker Necklace, Devil eye jewelry, Turkish Boho Evil Eye Name Two Strand Necklace, Custom Name Evil Eye Jewelry – The Colourful Aura
PERSONALIZED NAME BROOCH PIN
The Fifth one in the list of Personalized Jewelry Under 20 Pounds – The brass construction of the brooch makes it beautiful. The gold-plated lining of the brooch shows attention to detail. In addition, it's lovely. Charms have been added to the brooch. charms that you personally like. With an additional fee, you can select the amount of charms to be utilized.
Designed for you as a chic, beautiful memoir. Add your particular date or a mix of your own zodiac signs to make it uniquely yours. After all, these statistics account for individual differences. But there's more! Include a color of your choosing. Maybe you're a fan of the dark. Or you experience complete tranquilly and light. We are prepared to provide any personalization that you request for the brooch.
Create your own ideal jewelry. The base was made by us, and the remainder was your idea. Write down the date you want. such as your birthday, your anniversary, or just a day you accomplished something. The options are still limitless!
Grab it for a fun wedding or a custom Christmas present. Or just a quick Mother's Day thought. Even better, you may give this homemade brooch as a birthday gift. You can create your own jewelry.
Personalized Name Brooch Pin, Customized Name Brooch, Charm Name Pin Badge, Design your own jewelery, Bridesmaid Name Jewelry, Custom Gift – The Colourful Aura
PERSONALIZED PHOTO ALBUM LOCKET
The sixth one in the list of Personalized Jewelry Under 20 Pounds – There is a huge selection of personalized jewelry available in stores nowadays, including necklaces, bracelets, rings, and earrings.
For your personalized design, you can select from a variety of materials, including metals like sterling silver and white gold among others.
Custom jewelry is simple to make for yourself, friends, and family.
So, if you're looking for a unique gift idea right now, think about presenting jewelry that has been personalized.
The best necklaces and neckpieces in the city are what we at The Colorful Aura present to you. Choose our jewelry to get people's attention.
The exquisite chain and clasps are made of premium gold-plated brass, while the locket is made of solid brass. To have a better sense of how necklace lengths will seem visit the product and grab it before the stock fades.
Personalized Photo Album Locket, Personalized Necklace Jewelry, Miss You gift, Vintage Personal Photo Pendant, Gifts for Mom, Picture Locket – The Colourful Aura
CONCLUSION
We have a good feeling that these designs must have taken your heart. However, we must point out that this is not the only design.
A beautiful gallery of amazing jewelry articles is waiting for you on the website of 'The Colourful Aura'.
Do give it a visit and grab the most lovely personalized jewelry pieces for you and your special ones. And that too under 20 pounds.
So do not think more and stop suppressing your desires. Order them now!
Also Read:- Top Rings to buy under £10.00 | Suscribe our Video Updates on YouTube