Rings are crucial style enhancers that add a statement in themselves. Whether or not you are an accessory fan, you need rings to accompany your outfits. They add panache to your casual everyday looks and attract attention from the bypasses. Hands anyways are the personality enhancing parts of our bodies. People tend to look at your hands first when they meet you. And this gives you all new reasons to work magic with those hands with trendy matching ring sets.
Have you looked at our absolute six favourite ring sets from the collection?
3-Piece resizable ring set.
This 3-piece ring set comes in 2 choices, gold and silver. These resizable rings could be paired with any fingers as you please. The thick cigar band has a white alloy coating in between and is suitable for thumbs and middle fingers. The set also consists of a gold/silver cuff ring and an interlinked ring. It's a perfect bohemian set and looks pretty royal when styled with your bohemian and modern outfits.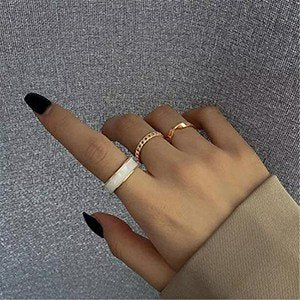 2-piece twisted bohemian geometric ring set.
Perfectly fitting the bohemian vibe, this 2-piece ring set comes with adjustable, resizable and stackable rings. The set consists of,
The braided ring with the word LUCKY engraved on it.
The geometric twisted interlinked ring.
These sterling silver alloy rings exude perfect bohemian vibes, and if your style resonates with this, you need to get them right away.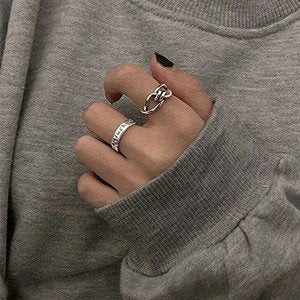 Indie Beach ring set
This 4-pieces stackable ring set is a fitting addition to your Indie style outfits. The irregular geometric shape of these rings captures the attention, and the colourful stones add a rustic retro vibe to the entire stackable set. There is also a plain sterling silver matching ring in the set.
Style them individually, in pairs or in an entire stack- You simply are going to rock the style quotient with your quirky panache.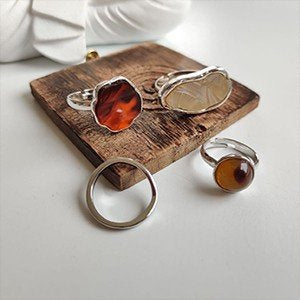 4 piece minimalist silver rings
This set is perfect for you to get the bohemian look without being too loud. The 4 pieces dainty set includes
An open sterling ring with black pearl.
Open braided knuckle silver ring.
Dainty ring with black pearls.
Textured silver thin ring.
The beauty of this set lies in its delicate shapes and texture. Pair it with your bohemian vibe outfits to take your makeover from 1 to 10 in seconds.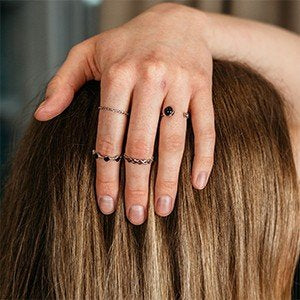 Boho Beach stacking ring set
These 4 pieces of ethnic vintage elephant ring set have beautiful different widths and thickness rings. The rings consist of plated totem leaves, imprinted elephants and unique designs. It's a loud and statement-maker ring set. You don't need anything else when you pair these rings with your bohemian outfits.
 Stackable knuckle ring set
These 5 pieces of stackable gold ring set look perfectly modish. The set comes with
3 flat rings of different widths.
1 dainty slim ring.
1 wavelength flat ring.
This gold ring set is a brilliant addition to your party wardrobe. Trust us you are going to reuse these repeatedly for years.
Which amongst these are your favourites? We also have engagement rings for couples, Wedding bands for couples, and love band rings for couples to explore. Explore more from our matching ring set collection here.