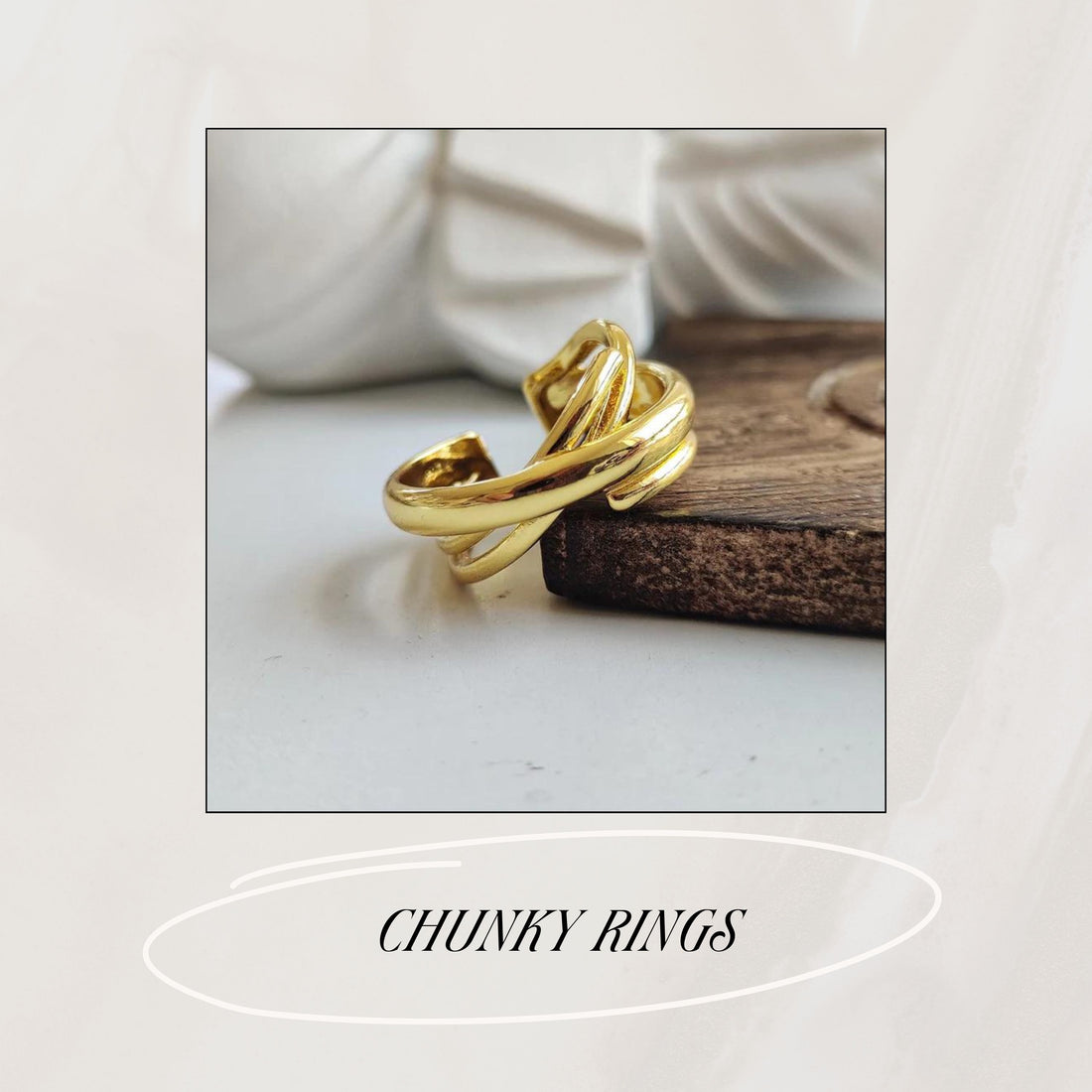 Trendiest Chunky Rings That You Must Buy In 2023
You must have heard about the chunky rings. Of Course, you must, as they are the trendiest in today's fashion world. If you are more of a trend-following person and need to know more about the chunky rings, then you are at the right place. 
You will not only get a deep knowledge about this trend of Chunky rings, but this post will also take you to the best handmade and trendiest chunky rings you must buy in this fashion season of 2023. 
History Of Chunky Boho Rings
Chunky boho rings have a long history dating back to the 1960s and 1970s when the hippie movement was at its peak. The bohemian or "boho" style became popular among young people who rejected mainstream fashion favouring a more free-spirited and non-conformist look.
Boho jewellery, including chunky rings, was frequently made from natural materials like wood, leather, and stones and featured bold, oversized designs with intricate patterns and details. 
Many of these rings were inspired by ethnic and tribal designs from around the world, and they were frequently adorned with spiritual or culturally significant symbols and motifs.
Boho fashion and jewellery fell out of favour as the hippie movement faded in the 1980s. Still, it experienced a resurgence in popularity in the 1990s and 2000s, particularly among younger generations who embraced the idea of individuality and self-expression.
Today, chunky boho rings remain a popular fashion accessory, with designers and artisans creating unique and beautiful pieces using various materials and techniques. 
From handcrafted silver and turquoise rings inspired by Native American art to bold, colourful resin rings with abstract patterns, chunky boho rings are a beloved and enduring symbol of bohemian style and the free spirit it represent.
Characteristics Of Chunky Boho Rings
Chunky boho rings are popular among people these days. Due to their unique features and characteristics. Do you want to know?
The following are some critical characteristics of chunky boho rings that distinguish them from other rings:
LARGE IN SIZE
Chunky boho rings are typically larger than traditional rings, with a diameter of 1 inch or more. They're meant to stand out and draw attention to the wearer's hand.
MADE UP OF NATURAL MATERIALS
Boho rings are frequently made from natural materials such as wood, leather, and stones. These materials give the ring an organic, earthy feel that adds to its individuality.
BRIGHT COLORS 
Boho rings frequently incorporate vibrant and bold colours, with stones or resin set in colourful patterns.
Boho rings frequently feature intricate designs such as floral or geometric patterns, symbols, and motifs from various cultures worldwide.
UNIQUE DESIGNS 
Boho rings frequently feature intricate designs such as floral or geometric patterns, symbols, and motifs from various cultures worldwide.
ASYMMETRICAL DESIGNS 
 Non-traditional shapes, such as asymmetrical designs or irregular shapes like teardrops or ovals, are common in boho rings.
Overall, chunky boho rings are an expressive and daring fashion accessory that embodies the free-spirited, individualistic spirit of bohemian style.
Top Chunky Boho Ring Designers And Brands
Many talented designers and brands are producing beautiful, chunky boho rings. Here are a few of the best:
 Vanessa Mooney: This jewellery designer creates bold and one-of-a-kind pieces that are ideal for the boho-chic look. Her chunky rings are frequently adorned with oversized stones, intricate patterns, and mixed metals.
Samantha Wills is an Australian-based jewellery designer known for her luxurious bohemian designs, frequently featuring statement stones and intricate detailing. Her statement rings are no exception, with many featuring large crystals and eye-catching metalwork.
Free People: This famous bohemian clothing brand also sells chunky boho rings in various metals and natural stones.
Spell & The Gypsy Collective: This bohemian fashion and jewellery label offers a wide range of chunky boho rings, many of which feature intricate patterns and designs inspired by nature.
Kendra Scott: While Kendra Scott is best known for her delicate and dainty jewellery, they also have some stunning chunky boho rings. Natural stones in bold settings, unique metalwork, and intricate details are frequently featured in their designs.
Pamela Love: This New York-based designer makes edgy, bohemian-inspired jewellery with natural materials such as feathers and stones. Her chunky rings frequently have bold designs and unusual shapes.
How To Style Chunky Boho Rings?
Let us now offer you some tips and advice on wearing and pairing chunky boho rings with different outfits.
Chunky boho rings can add a lovely touch of bohemian flair to any ensemble. Here are some styling suggestions:
Statement piece
Make your chunky boho ring the focal point of your ensemble. Wear it with a simple outfit to let the ring stand out.
Mix and Match
Mix and match your chunky boho rings for a unique and eclectic look. Wear rings of various shapes, sizes, and metals together for a layered look.
Experiment with wearing your chunky boho ring on different fingers
 Feel free to try wearing your chunky boho ring on other fingers. Wear it on your pinky or index finger for a distinct, eye-catching appearance.
Boho chic
 To create a cohesive look, incorporate other boho-chic accessories into your outfit. Consider fringe purses, floppy hats, and flowy dresses.
Stack them: For a fashionable look, try stacking multiple chunky boho rings on one finger or spreading them out across numerous fingers.
Let Us Now Meet With A Beautiful Chunky Ring 
You must have seen many chunky rings in many places, but let us now acquaint you with the finest chunky ring, which is handmade and highly adorable.
925 Gold Chunky Boho Cross Stackable Thick Band Statement Ring
The ring is by The Colourful Aura, which sells the best jewellery, headquartered in the UK. It sells the most beautiful, unique and handmade jewellery pieces. This ring is handcrafted with meticulous attention to detail. These rings are made of sterling silver and are, therefore, ideal. These rings can be worn by anyone of any age and look chic and elegant.
The ring comes in two primary colours: gold and silver. These rings are fashionable; everyone should own at least one pair of chunky rings.
This ring will instantly upgrade your look. This ring is appropriate for any occasion, from a family dinner to a formal event. Casual is the new normal, and these chunky rings are the perfect way to spice up your look.
Get these fashionable rings for yourself or a loved one. Follow the top trend to be the talk of all the hot fashion topics.
Wrapping Up 
Chunky boho rings have grown in popularity in recent years, and they are expected to be a significant trend in 2023 and beyond for various reasons.
Chunky boho rings are an excellent way to add a touch of bohemian flair to any ensemble. Natural stones, intricate metalwork, and unique designs make them stand out and add colour to any outfit.
Second, chunky boho rings are highly adaptable. They can be dressed up or down depending on the occasion and worn with various outfits, from casual jeans and t-shirts to formal dresses.
Also, the popularity of bohemian fashion has steadily increased in recent years, and chunky boho rings are an essential component of this trend. 
Overall, the growing popularity of chunky boho rings reflects our desire to add a touch of personality and individuality to our outfits. With their bold designs and unique shapes, chunky boho rings are a great way to express your style and stand out from the crowd.