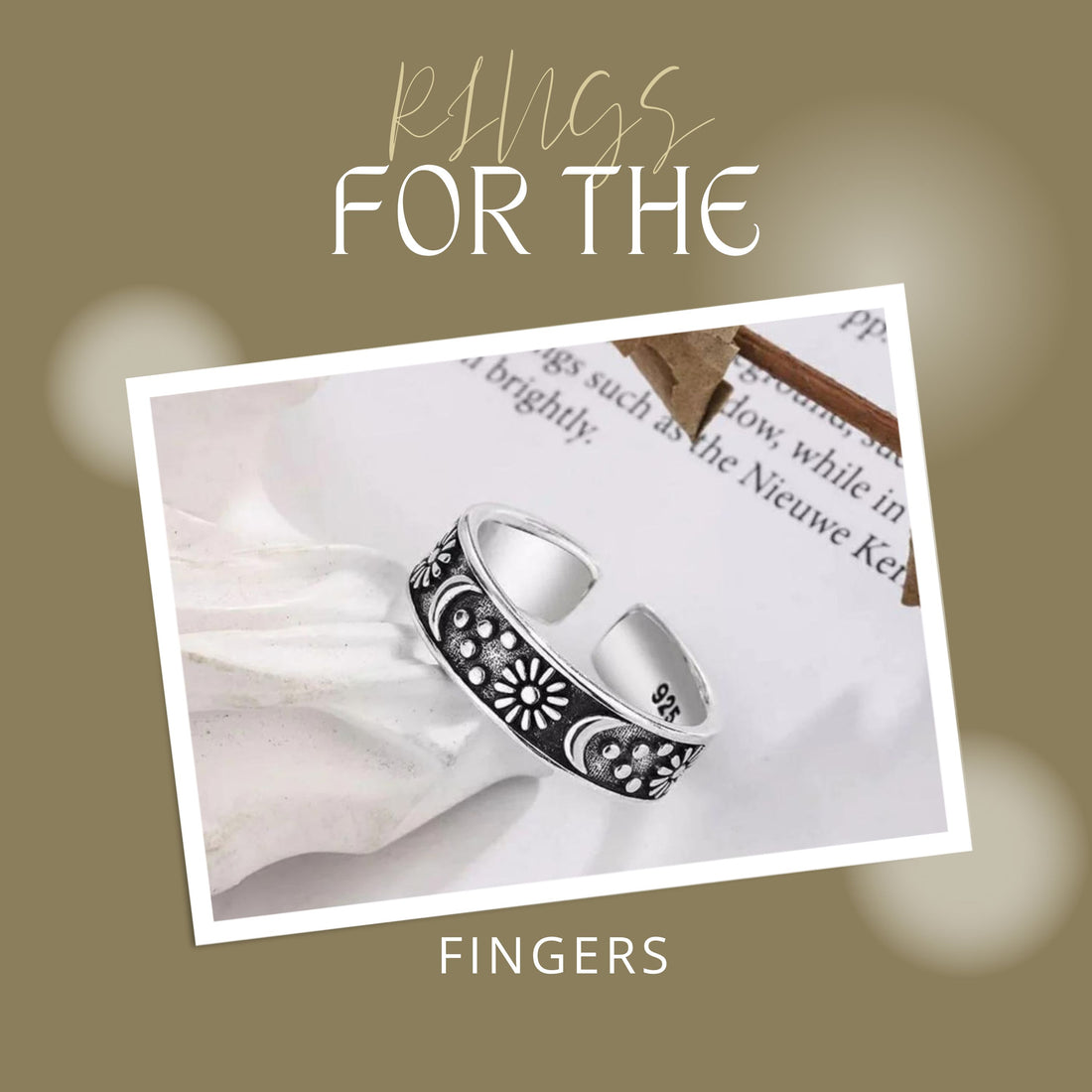 Gift your loved ones a Sterling silver ring this New Year.
Are you looking for the perfect present for your partner, mom, dad, or sibling this New Year? If so, a sterling silver ring might be just what they need and also address any budget concerns you may have. Sterling silver rings are an affordable yet elegant option for gift-giving and are a great way to make a statement with your present while filling up the sales bag by purchasing something unique that will last for years. When you are ready to propose a ring, consider all the options. Instead, find a piece that fits your partner's personality and dress style. Consider their age and look at the more timeless options like round, square, or princess-cut stones that go well with any stone setting.
What are sterling silver rings?
Sterling silver rings are timeless and elegant pieces of jewellery that have captivated people for centuries. Crafted from 92.5% pure silver and 7.5% copper or other metals for added strength, sterling silver rings offer beauty and durability. The lustrous metal gleams attractively, making these rings eye-catching accessories suitable for any occasion, whether a casual outing or a formal event. 
With various designs and styles available, from simple bands to intricately detailed settings adorned with gemstones, sterling silver rings cater to diverse tastes and preferences. These rings also make excellent gifts, symbolising affection and appreciation, reflecting the bond between the giver and the receiver. 
Whether cherished as a sentimental keepsake or worn as a fashion statement, sterling silver rings remain a choice among jewellery enthusiasts worldwide.
Sterling silver rings are an emerging trend in the fashion industry.
Let's let the silver speak for itself. You should because it has a lot to say and is one of the most beautiful materials. It's also highly versatile and can be worn in multiple ways, from dressy to casual. Plus, it's a great option that won't break the bank, and it's an affordable piece of jewellery that you will both love and feel good about giving. 
If you are still on the fence about buying your loved one a present, take a good hard look at your relationship. Do you know the person well enough to have them pick something specific, or would it be better to get something that will stay in style? If your partner is into classic pieces, then stick with simple designs. This way, they can use their ring on any occasion and enjoy it for many years. But if they are not too picky or like something trendy, then there are plenty of options at our store. Here are some of the best-selling sterling silver rings to gift your loved one's this New Year.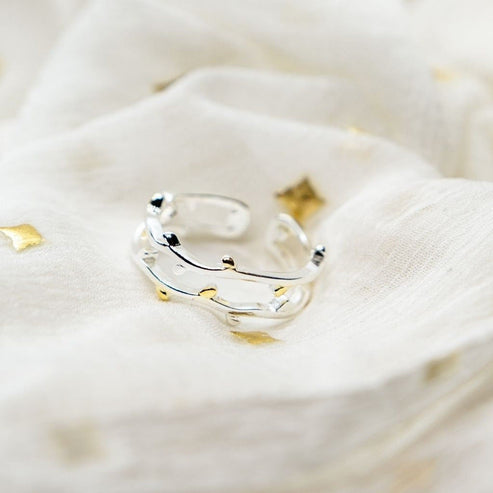 There has been a massive demand for simple yet decent gold rings. A straightforward call can make your outfit look elegant, stylish and classic. Everyone needs to add such dainty jewellery to their jewellery collection. Hence, we present you with a silver tree leaf vine ring.
This ring is made up of sterling silver. The ring has a silver base colour, golden leaves, and a slim and dainty design. Whether a small family dinner or any fancy office party, this ring will go perfectly with all occasions. The wide cuff ring comes with an adjustable band. Perfect for your resizing.
Manufactured sterling silver rings are classic and elegant, making the rings fit for everyday use. Add these to your daily essentials and rock your look. Gift it to your mother or a close one. This jewellery comes with easy-to-gift-wrap packaging and, of course, a small jewellery instruction care card.
This beautiful jewel is a wide-band adjustable colourful leaf ring. It has an irregular open cigar band made precisely as a statement thumb ring with minimal design.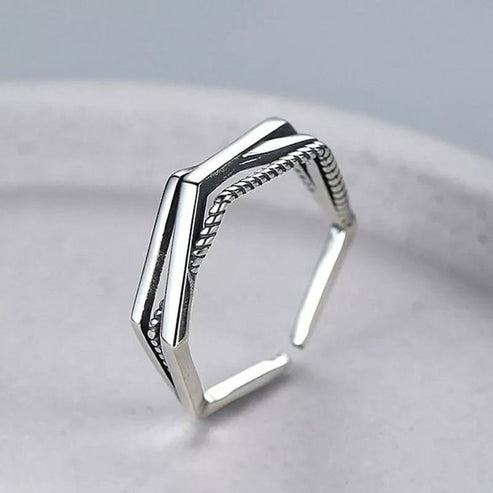 The geometric shape of the ring is very trendy and makes the ring very attractive. Ideally, this ring is 100% handmade, and all our jewellery is dispatched from a small UK-based business. This ring is a true example of style, trend, and elegance.
This ring can be paired with all your outfits, and it will surely bring the style statement of your ring. This ring is made up of 925 sterling silver, which makes the ring a luxurious ring. You can wear this ring daily and not worry about the ring getting tarnished. You need to add such a ring to your jewellery collection today.
The most challenging part of shopping for rings online is buying the right shape but worry not. We have the perfect solution for you. This ring is adjustable, which means it can adjust according to your fingers, and you need not worry about the size.
This is a silver-plated wide cuff band ring for both men and women. It carries a vintage boho, hippie look and looks exceptionally minimalistic.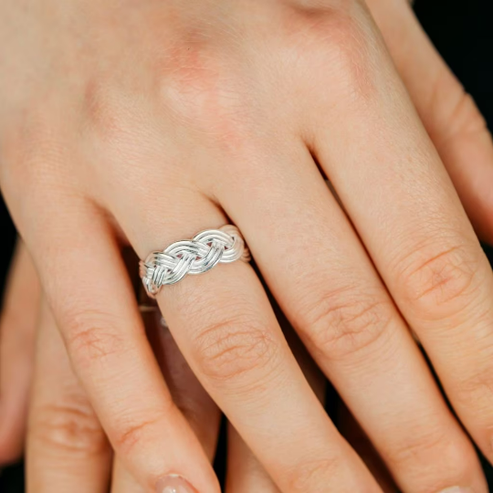 We bring you the perfect "retro woven braided ring." A ring is something that will elevate your whole outfit in just seconds. Rings bring an elegant and boho look to your hands and will surely grab all the attention. This ring is 100% handmade to give you the best online shopping experience at an affordable price.
This ring is made of 925 silver, and the base colour of the ring is silver, which will make you look elegant and luxurious. If you love to follow all the latest trends, add this ring to your jewellery collection today.
This ring is adjustable, which makes it easy to wear. Buying the perfect ring that fits you is difficult, so switching to adjustable rings is the best option. Buy this trendy ring today for yourself or your loved ones this Christmas and make them feel extra special.
Gift this beauty to your loved ones and watch them smile with excitement. To anyone who loves to keep it quirky while being on the side of minimalism, this ring is your perfect pick.