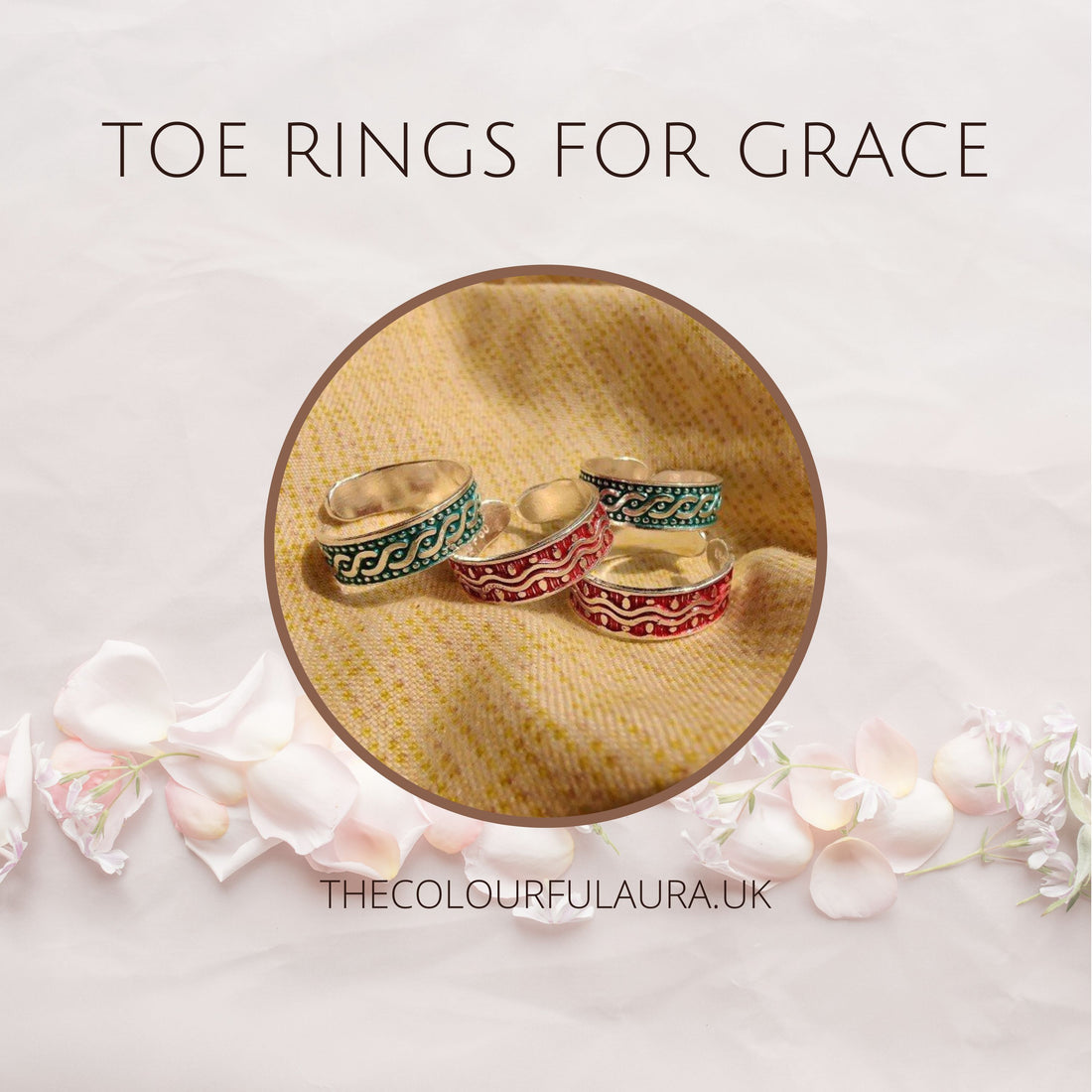 Give your traditional toe rings a taste modern twist with our unique toe rings collection
The scientific backing towards the advantages of wearing toe rings is that upon wearing them on the second finger of the feet, the acupressure point is pressed constantly, which enables regulating a woman's menstrual cycle, keeping the uterus healthy and robust to conceive a baby. Toe rings are an essential part of every woman's jewellery box. 
Toe rings are small and delicate-looking pieces of jewellery that make the wearer look beautiful and appealing to anyone around them. There are many types of toe rings ranging from plain to extravagant and ornately crafted toe rings. As so The Colorful Aura brings you the best of toe rings.
Importance of toe rings.
Toe rings hold cultural, religious, and symbolic significance in various parts of the world. They are a traditional practice passed down through generations in many cultures, symbolising marriage, commitment, and cultural heritage. 
Some believe that wearing toe rings balances energy and promotes well-being, while others see them as an expression of personal style and aesthetics. In certain spiritual beliefs, toe rings hold energetic importance due to the presence of specific nerves and energy points in the toes. 
Furthermore, in Ayurveda, certain metals used for toe rings are believed to have healing properties. Overall, toe rings are more than just fashion accessories; they represent a blend of tradition, spirituality, and personal expression.
The toe ring, adorned with intricate designs or symbols, reflects the bohemian aesthetic and can be a beautiful addition to one's feet, adding a touch of individuality and charm. Pure silver is often preferred for its durability, hypoallergenic properties, and elegant appearance, making it a popular choice for toe rings. 
Whether as a fashion statement, cultural accessory, or spiritual adornment, a pure silver Bohemian toe ring can be a unique and stylish way to express personal style and embrace the bohemian lifestyle.
These small metal bands can be a perfect addition to your jewellery collection. It is an ideal fit for any outfit! These are made of 100% silver. The ring comes in adjustable size and can fit any finger size. 
With pure Bohemian vibes, these silver toe rings can change your whole look. Each piece is truly unique and handmade. This toe ring should be your pick for Christmas or New Year.
Pure Silver Hippie Toe Ring Set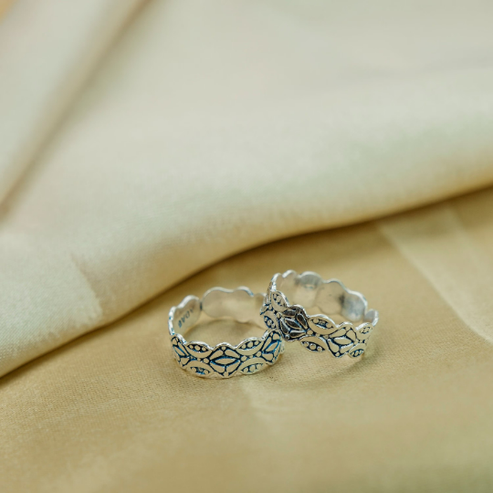 This big chunky Silver Midi Band Dainty Zehen ring is perfect for anyone who loves bold statement jewellery. This toe ring is adjustable and handmade with utmost precision and love. Either gift it to any of your loved ones to wear it all by yourself. This silver hippie toe ring is the ultimate piece of beauty. Adore your New Year's Eve outfit with this hippie vibe.
Crafted carefully, our bow-inspired toe ring introduces a fresh twist to your regular bow jewellery. With the adjustable feature, you don't have to worry about getting the perfect fit. It's a piece that resonates with elegance and simplicity, making it an ideal addition to your Indian Bichiya or Asian jewellery collection.
The toe ring is designed with a minimalist approach, perfect for adding a subtle touch of sophistication to any attire. It's not just a mere Boho toe ring; it's a versatile accessory that works with various styles and looks. Made from pure sterling silver, the toe ring's band colour brings out the Bohemian and Hippie vibes, making it a stylish choice for any Midi Beach Ring enthusiast.
Pure Silver Hippie Toe Ring Set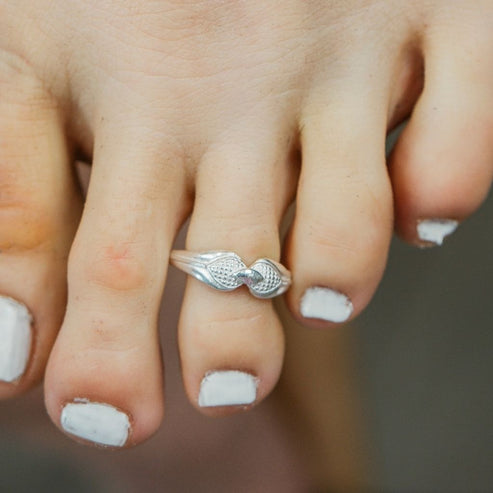 This turquoise-green silver hippie ring is something you can't resist. The design is aesthetic and will go along with any of your outfits, be it traditional or Western. Grab this beauty in the Black Friday Sale now.
The beauty of our "Green Midi Band Toe Ring" lies in its simplistic design and high-quality construction. The top-grade sterling silver base exudes an enticing shine that sets the stage for the mesmerising green Zehen art detailing. This popular trend has revolutionised the jewellery industry and made significant inroads into the textile world.
This Midi Beach Ring, wrapped around your toe, symbolises quality craftsmanship. Its adjustable size caters to all, and the open-end wide cuff comfortably fits while allowing the stunning green Zehen artwork to flourish. It's not just a toe ring; it's a testament to the artistry that evokes the boho spirit.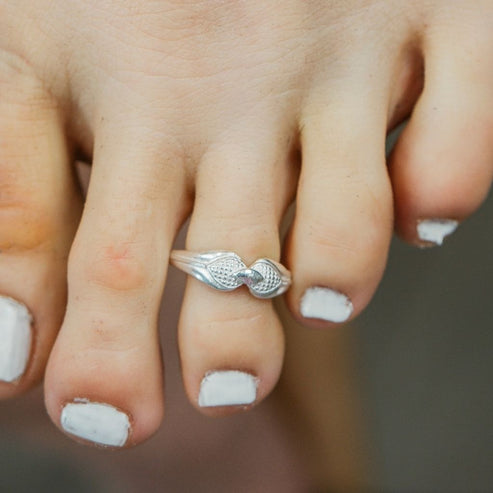 The colour contrast of silver and shades of purple is why this toe ring is in massive demand. Grab this beauty from The Colorful Aura now and add it to your timeless jewellery collection. These are engraved, customised silver toe rings with symbols carved into them. Gift this beauty to your loved one's on Christmas and new year.
The 7 Pcs Midi Toe Ring Set isn't just a personal style statement but a perfect gift too. Imagine surprising your loved ones on Christmas, Boxing Day, or Mother's Day with this beautiful set. The joy of receiving such a versatile and beneficial accessory is bound to be immense.
The 7 Pcs Midi Toe Ring Set is more than just an accessory. It's a blend of style, tradition, and well-being designed to make your feet shine elegantly. Hurry and grab this set before it's sold out, and add a touch of class to your collection. Remember, beauty isn't just about what's visible but also about how you feel - and this toe ring set ensures both.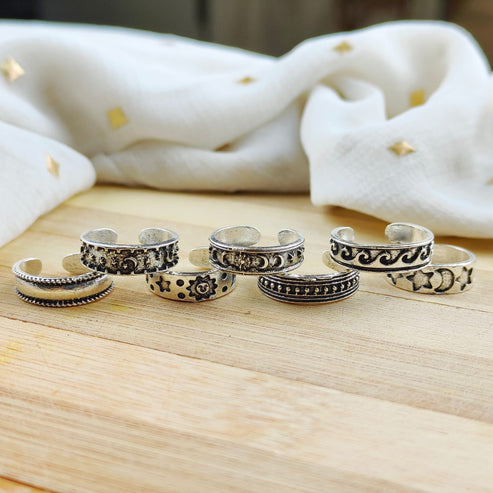 If you love any shade of red, this silver hippie toe ring is a match made in heaven for you. It looks timeless and is made with utmost care and precision. Red is the colour of love, and you will love this toe ring. Red and Christmas go in sync, and now you know what you need for your jewellery box this Christmas.
All of these toe rings can alleviate stress and give you a more beautiful smile. Toe rings also help your feet and legs to be more relaxed and healthy. They help in increasing blood circulation and promote good health to the patient. Most importantly, these toe rings are worn with style and do not detract from your beauty. From a plain toe ring to an elaborately crafted toe ring, The Colorful Aura has it all.