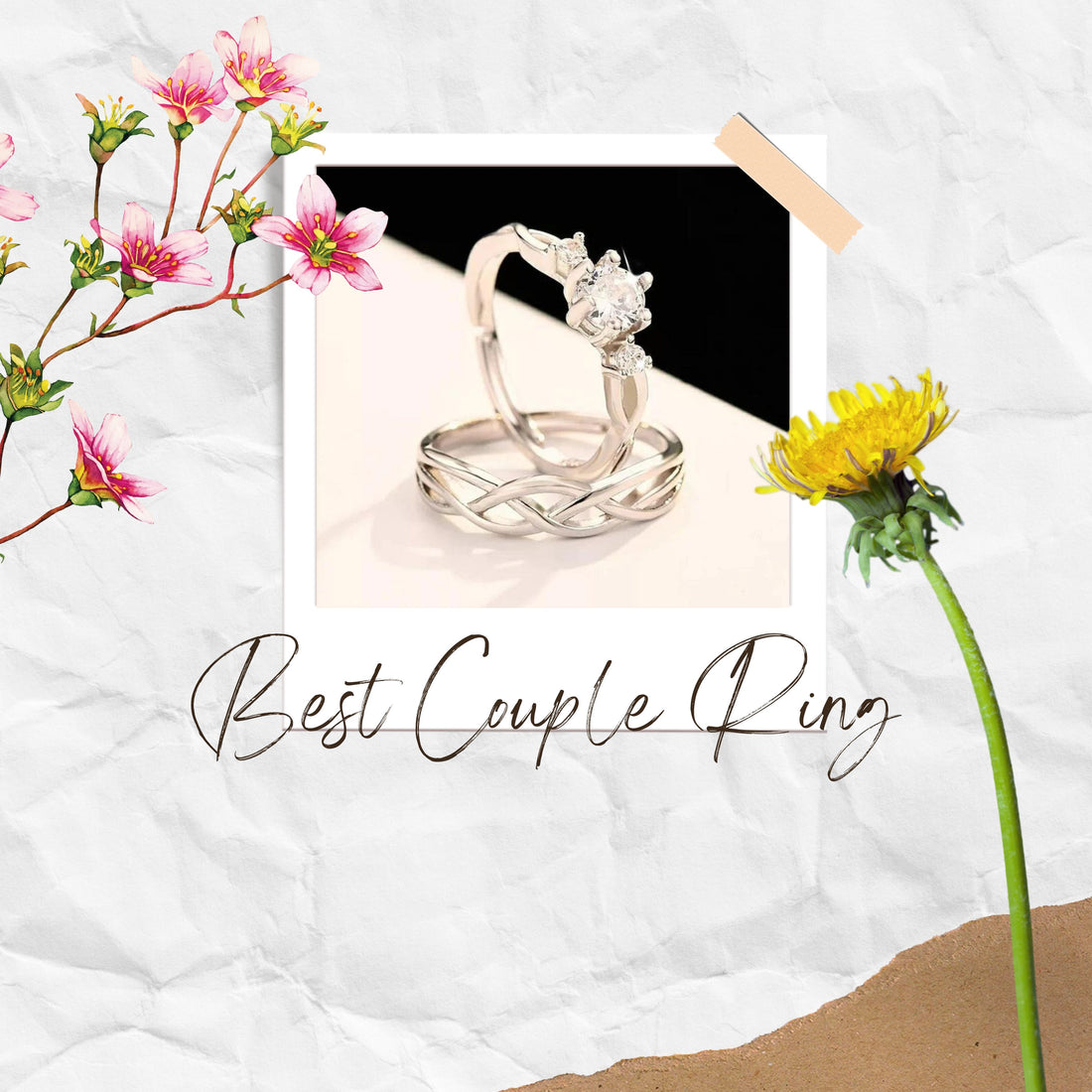 Our new valentine's day couple ring collection for your loved ones.
Whether you're engaged, newlywed, or long-time partner, a ring's enormous symbolic power is worth considering before making your purchase. The symbolism of exchanging rings goes back to ancient Greece and Rome. In ancient Rome, a bride-to-be would wear a gold band two or three fingers wide on her right hand as part of the betrothal ceremony. She would then wear it on her left hand after she wed. Our couple ring collection is the best Valentine's gift for your loved ones.
Why are couple rings considered so pious?
In Greece, couples wore matching bands, with the groom wearing his on his right ring finger and the bride wearing hers second from the thumb at first and moving it to her left ring finger after she wed. Over time, rings became signifiers of power and fertility. Ring symbols have ranged from simple gold bands to intricate gem clusters worn on fingers. Today, couples wear them as decorative accessories, but the symbol's true significance is primarily lost, and we use it for status rather than a commitment to save for a lifetime.
The notion of couple rings
The most popular ring symbolises marriage and is the one we all know best: the engagement ring. Essentially a gold band is worn on the left hand during pre-wedding ceremonies or the wedding, an engagement ring became customary during medieval times as a way of sealing an agreement between two people. The ring presided over the commitment, representing how two people would look at each other, their love and respect for each other in their hearts, and a promise to always be with each other no matter what life threw at them.
Here are a few hot-selling couple rings from The Colorful Aura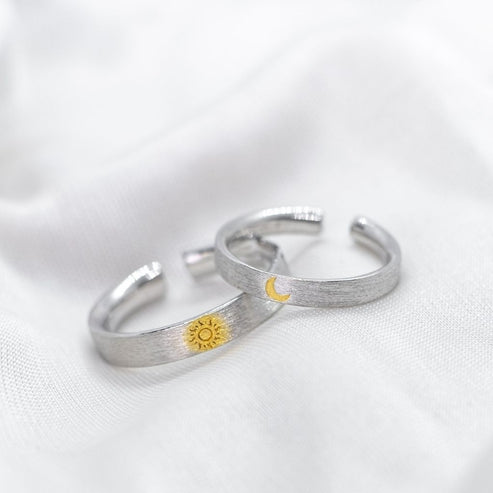 This is a couple of rings with a minimal vibe making this a sturdy and substantial ring. The shiny finish and minimal style make it a must-have to complete any fashionable look. Shine bright whenever you wear it. 
A pure silver ring of such character brings a touch of elegance to the wearers, its silver sheen elevating any look it's paired with. Handcrafted with attention to the minutest detail, the Silver Sun Moon Adjustable Couple Ring is a piece of art. The design embodies the cosmos - a moon for serenity and a sun for vitality, each on its own, a beautiful entity, but together, They form a breathtaking spectacle.
These matching couple rings are not just tokens of love but an ideal anniversary gift, a testament to the journey you've embarked on together and worried about the ring size. The unique adjustable feature perfectly fits any finger, erasing any concerns about fit. This ring ensures that the symbol of your love, like your feelings, is not restrained by measurements.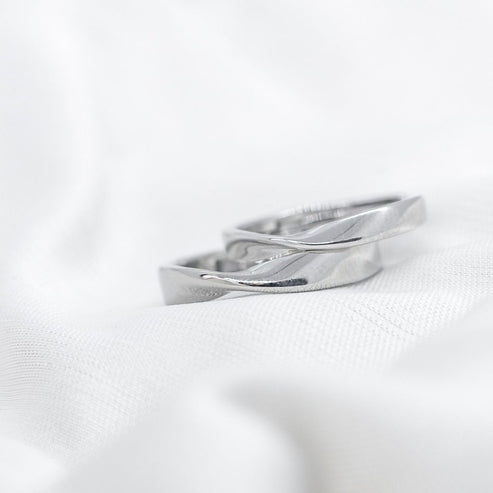 This couple's ring set oozes out all the minimalistic vibes it has. If you and your partner love anything simple yet eye captivating, this beauty is your pick.
This unique couple ring set features a silver sun ring for him and a matching silver moon ring for her. Like the sun and moon in the sky, these rings beautifully express the unity and balance within a relationship. Each ring is a meaningful reminder of the other, even across long distances or during times apart.
On Christmas mornings, as the sunlight and moonlight blend into one, the Silver Couple Moon and Sun Matching Promise Ring will serve as a unique reminder of your strong bond. On special occasions such as anniversaries or Mother's Day, it's an exceptional gift to celebrate the love that continues to grow.
Each ring is carefully crafted from a robust stainless steel band, known for its durability and scratch resistance. This band beautifully complements the stunning silver finish of the rings, which shines brightly under the light, much like the sun and moon in the daytime and night-time sky.
Present these rings on a special occasion, like an unexpected gift on an ordinary day.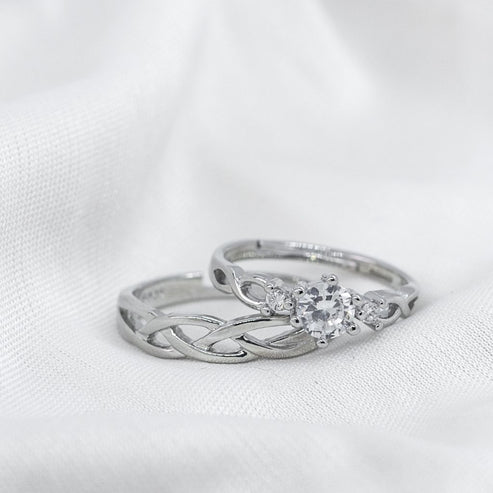 Get this beauty for you and your loved one. Mark your love for the world with this beautiful silver couple promise braid ring set.
This Pure Silver Ring offers a captivating visual appeal with its intricate braid pattern that wraps around a dazzling zircon stone. The design adds an exquisite aesthetic touch and signifies two lives intertwined in love and harmony, just like the moon and sun coming together in a perfect celestial dance.
Crafted to adapt to various finger sizes, the Adjustable Silver Braid Zircon Promise Ring removes the hassle of finding the right fit. Its adjustable nature makes it a perfect choice for long-distance couples who want to feel connected, despite the miles between them or those who want a matching couple ring set.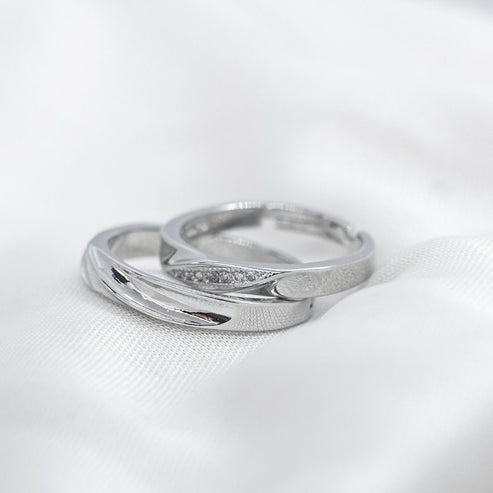 Love is for eternity; hence, this is your reminder to get an exclusive silver couple promise eternity ring set for your beau.
The Silver Couple Promise Band Zircon Ring is a testament to detailed craftsmanship. Every facet of its design, from the silver plating to the dazzling zircon, reflects an unwavering commitment to quality. It's an ideal Promise Ring or an Anniversary Gift designed to preserve and celebrate your shared moments.
The care for this charming piece is straightforward. By avoiding water and perfume, the ring's lustre and shine will endure, a constant mirror of your enduring love.
Cherish your shared journey with the Silver Couple Promise Band Zircon Ring. This ring manifests your love, a symbol of unity, and a celebration of shared promises. Whether honouring a special occasion or looking for a unique way to articulate your affection, this ring captures the essence of your love story. Its eternal design and radiant silver colouring make it a wonderful memento of your shared bond. 
Every day can be a special occasion with our Silver Couple Promise Band Zircon Ring, which encapsulates love and ties it around your finger in an eternal pledge of unity.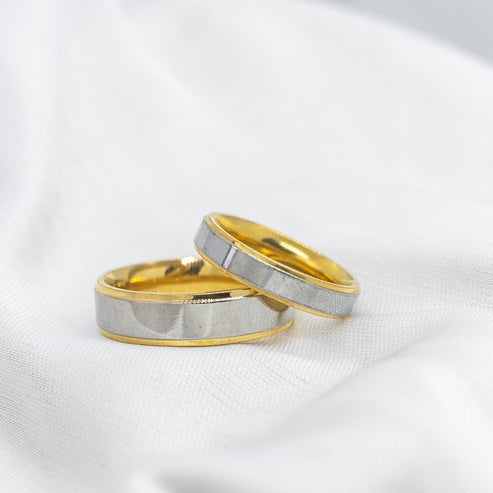 This ring comes with a surface width of 6mm for males and 4mm for female rings. Made of Stainless Steel, and is perfect for your everyday wear.
Promise rings are more than a fleeting trend. They are an endearing symbol of commitment and the perfect way to communicate your love for your partner. Our Gold Promise Ring embodies this sentiment and adds a stylish touch to any outfit.
Our Couple Golden Wedding Band Promise Ring set showcases the sleek sophistication of modern jewellery trends, offering a minimalist yet striking design. Cast in stainless steel, these bands are a beautiful blend of durability and elegance, boasting a lustrous gold finish with a tasteful silver outline.