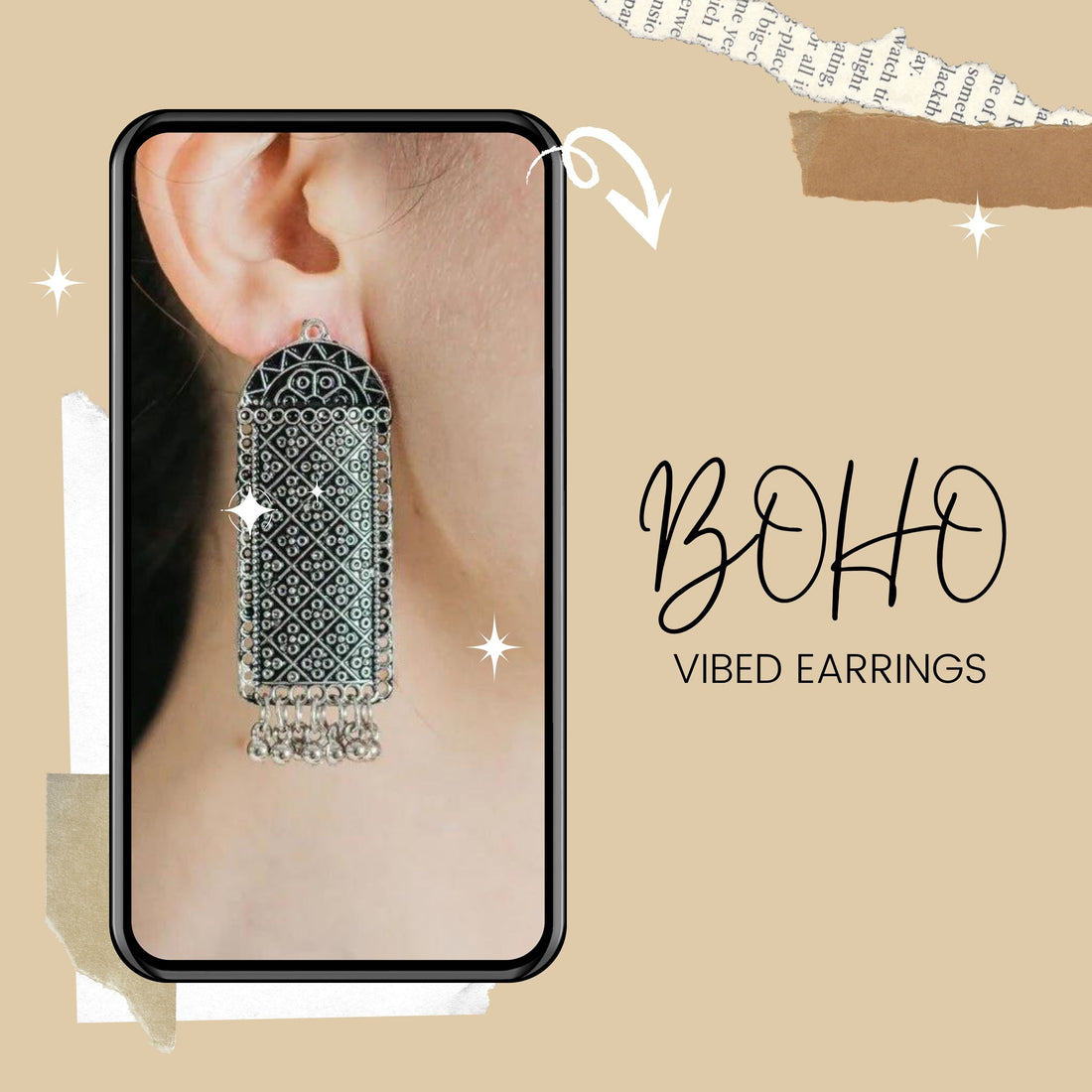 New Indian Boho Range Launched with a twist
No trend is more hyped than boho jewellery and for a good reason. It is a statement of individuality with a great story: the beads and chains started as hippie adornments, with people experimenting with finally creating jewellery without following mainstream trends. Boho jewellery always stays in style; it is always trendy. 
Boho jewelry doesn't mean anything in particular; it's just an individual's way to express themselves like never before. There are no rules for boho accessories, as they can be as elaborate or simple as you want. 
The only sure thing is that you will show off your inner hippie, with or without even knowing it.
When did the boho jewellery trend come into the market?
This trend started as a throwback to the 1960s and 1970s. Hippies wearing beads and feathers in their hair were all the rage with these accessories; they were even immortalised in music videos such as Lady Gaga's "Bad Romance". 
Although there are different themes associated with boho jewellery, one thing stood true: it was my way of speaking without using words. There is also a strong message behind wearing boho jewellery: being yourself and expressing freedom without being restrained by anything or anyone. It's all about what you want to say with your endless accessories. You can find boho jewellery in different shapes, sizes and materials. You can incorporate it into your outfit by adding it to a scarf, belt, or clothing. 
You can also wear it independently, as I did with this boho bag. GenZ loves everything about boho vibes. Boho accessories are more popular than ever because millennials – now aged between 15 and 35 – appreciate the style. With their free-spirited philosophy, they want to express themselves however they wish. 
Boho jewelry is perfect for any occasion, as it can be worn to any event. Whether going out with your friends to a club or having a fancy dinner at an upscale restaurant, you can be sure that boho jewellery is always the way to go. It doesn't have to be fancy, either: it's all about embracing a trend that has been around for years and keeping it alive. 
Boho accessories are different for everyone; they are unique compared to other trends because there aren't any rules on how to wear them. They express your personality and create an extraordinary look that will stay in style for a while.
Here are a few finest boho jewellery from The Colorful Aura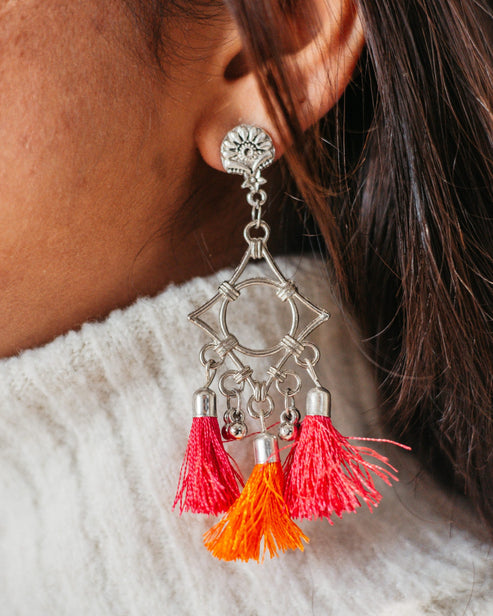 Today we have the perfect tassel earring for you: "long geometric tassel earrings." These earrings are perfect for all your looks, casual or dressy. Everyone needs to upgrade their jewellery collection with all the latest jewellery trends to look stylish and trendy. These earrings are 100% handmade to give you the best online shopping experience.
These earrings are made of Metal alloy, which might need a little more care to keep them from tarnishing. Keep these earrings away from water. These earrings have three tassels of pink and orange that add a hint of colour to the earrings. These earrings will surely draw attention to your face. This pair of earrings features a traditional and Indian-themed design that will make you look elegant and chic.
The length of these earrings is 3.5 centimetres, and the width is 1 inch. Everyone needs to have that perfect pair of earrings that they can pair at any occasion, be it a small family gathering or any official event. 
These stylish Colorful Drop Earrings set from The Colorful Aura will certainly leave you speechless. These Jhumki Earrings sets have an excellent finish and give out an exquisite sense of style.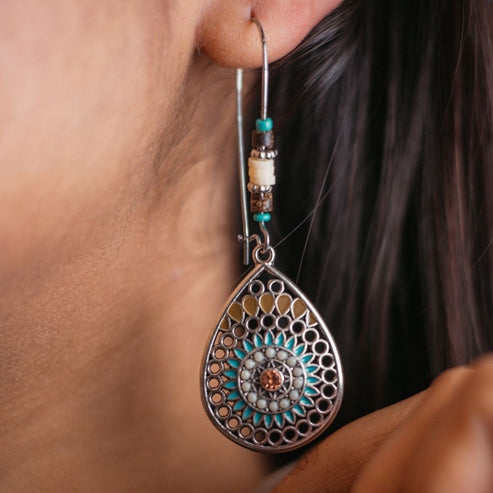 If you are looking for a fabulous Fashion Jewelry set for special occasions such as anniversaries, engagements, Parties, Weddings or gifting, your search ends here. Get this blue beauty for yourself now.
Match a traditional Indian earring set with your modern-day look. Yes, an earring set. The time immemorial facial jewellery for you. Earrings, which are seen as a fashion accessories.
It's plain evident how they spark an outfit. Be it a stud, a dangle or a hoop. Earrings are constantly hitting the top charts. With the growing demand, we bring you a unique pair to grab your attention.
They are bringing you the latest, in-trend fashion earrings and danglers. They are stacked with style, topping the fashion flow. These 'large Mandala Ethic Earrings' are inspired by Indian Asian bridal Jewellery for you.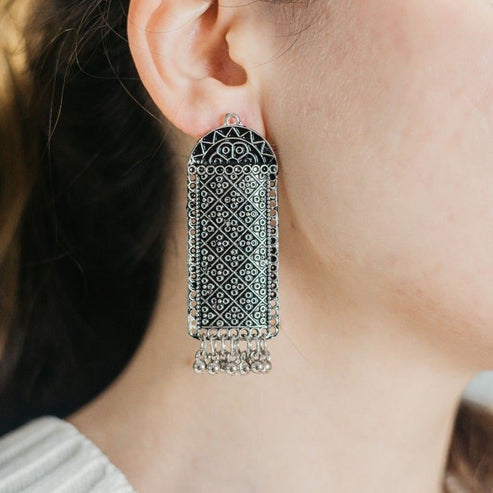 With a length of 4 inches and a width of 1.5 inches. These large stud earrings come with an intricate geometric design. Rectangle in shape with a boho finish to the oxidised metal. The Indian and Asian bridal styles go well with any such occasion.
A screw-back fastening is the easiest for studs. Not to me, turn, traditional. This bridal Asian jewellery, i.e. these earrings, come with an easy screw-back closure.
Prominent on erasing the gamble for the quality of our product, we bring you the highest quality from our handmade products. Grab a pleasant and geometric rectangular stud for your parties, wedding, or a casual get-together. A soothing mix of boho and hippie styles.
Anyone who adores oxidised silver jewellery pieces, this is your pick! Grab one for you now and slay it.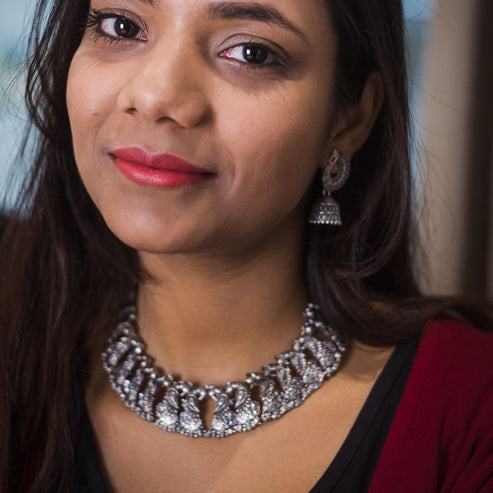 This necklace is inspired by a very alluring and beautiful bird peacock. We have a statement peacock chain choker. The necklace is handmade to perfection.
This necklace is made up of metal shaped like a peacock, giving the choker an exquisite and classic look. The size of this choker is 45 inches and can be adjusted to your liking. You can pair this with any outfit; it will surely make you look classic and aesthetic.
The choker will surely make you the centre of attraction, whether at a small intimate family dinner or any big fancy work party. Each peacock is handcrafted with an immaculate and luxurious finish. To keep the necklace good as new, keep it away from water to prevent tarnishing.