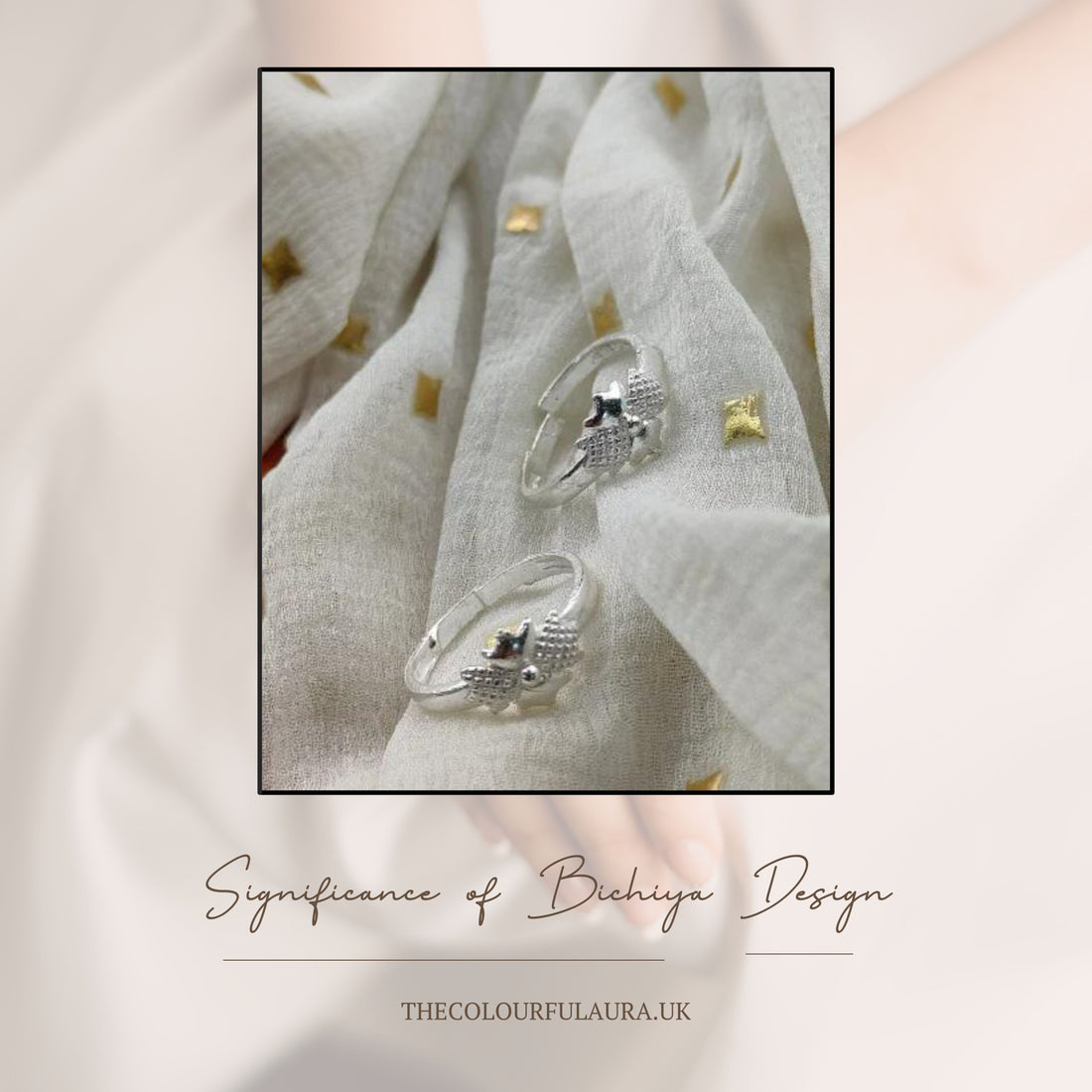 The Cultural Significance of Bichiya Design: Exploring the Symbolism Behind the Jewelry
Bichiya Design - Indian Bichiya which nowadays are known as toe rings and are quite in trend has a rich history and cultural significance from ancient vedic period to modern fashion. Read the article to know amazing and unknown facts about Indian Bichiya. Also at the end of this article, meet new, unique and the best toe rings you can ever get! 
History Significance Of Toe Rings (Indian Bichiya)
The history of bichiya design dates back to ancient India. Let's examine the history of bichiya design, including the various methods and materials employed to make the jewelry.
Indian toe rings, also known as "bichiya," have a long history that dates back to ancient India. Toe rings are thought to have first become popular during the Vedic era, which lasted from 1500 to 800 BCE. 
Ancient Hindu texts known as the Vedas refer to the custom of women wearing toe rings as a representation of femininity and marriage.
Women frequently wore toe rings as a sign of their marital status in ancient India. Women used the tradition of wearing toe rings to demonstrate that they were not only married but also that their communities valued and respected them. 
Toe rings were regarded as a symbol of femininity and maturity, and were worn by women as part of an important rite of passage.
Toe ring wearing has changed over time, but it has remained a significant Indian cultural tradition. Married women still display their marital status and femininity by wearing toe rings.
 According to Hinduism, the toe ring is worn as a sign of respect for Lord Vishnu and Goddess Lakshmi. A toe ring is also thought to enhance a marriage's luck, prosperity, and longevity.
Toe rings are a fashionable accessory that are worn by both married and single people in the modern era.
You May Also Like:- Make anklets your new obsession this Halloween.
Symbolism In The Design 
Animals, flowers, and religious symbols are all frequent motifs and symbols used in bichiya art. Let's talk about the significance of these symbols in Indian culture and how bichiya design uses them.
From very ancient times, various designs have been used in the bichiya rings. Different designs and symbols symbolize different things. For example, flowers are put in the rings which are going to be used by the bride or bride to be and even by the unmarried girls. Just in the similar way, various other symbols are used in the designs. 
In modern times, there are countless designs of bichiya rings that are available in the market all around the world. You must explore many of them and then select the best designs for you.
Regional Differences And Influences On The Toe Rings 
India is a large nation with numerous diverse regions, each with their own distinct cultural traditions. You can look into the various styles and designs found throughout India. Bichiya design can vary greatly depending on the region.
In India, toe ring wearing is very common. It is known as bichiya  in Hindi, Mettelu in Telugu, Metti in Tamil, and Kalungura in Kannada and is worn by Hindu women as a symbol of their married status. 
For married Hindu women, toe rings, also known as Bichwa, are essential. For married Hindu women in India, wearing toe rings has significant social implications.
Whatever the state is, wearing Toe Rings is highly appreciated and has a huge cultural impact on people's lives in India. It is considered as the most important jewelry for married women in every state of the country. 
Religious And Spiritual Significance Of Toe Rings 
The lotus flower and the OM symbol are two examples of the religious symbols and motifs frequently used in bichiya design. Let us now dive into the religious significance of these bichiya rings. 
Toe rings play an important part in the famous Indian epic "Ramayana." On the way to being taken captive by Ravana, Sita threw her toe ring (Kaniazhi), which served as an identification for Lord Rama. 
This proves that toe rings have been worn since ancient times. Bichwa, or toe rings, are one of the most significant symbols of marriage in Uttar Pradesh and Bihar. Women are encouraged to adorn each toe with a unique ring featuring a variety of designs, including paisley, fish, and flowers.
Sanskrit texts from the Vedic era established the idea of sixteen Shringaar, or the sixteen traditional ornaments that every woman could accessorize herself with.
This was about the religious and spiritual Significance of the toe rings in India. Due to such reasons also, toe rings are given that importance when it comes to Indian jewelry. 
Contemporary Bichiya Design 
Even though bichiya design has a long history, it still changes and evolves over time. You could look into how modern bichiya designers are incorporating fresh materials and methods into their creations while still paying homage to the jewelry's historical symbolism.
This is visible in The Colourful Aura's jewelry where culture and tradition is mixed with trends and modernity and then comes a beautiful and the most adorable modern jewelry. 
Still confused? Let me acquaint you with the most beautiful and unique modern and classic toe rings you have ever seen. 
Here are some of them:
7 Pcs Silver Bohemian Adjustable Silver Midi Band Dainty Toe Ring Set
The toe rings we present to you are highly recommended, and they all have different styles. A 7-piece pair of rings completed the set. The open band demonstrates how simple adjustments are. The rings that we created may be easily adjusted to fit any of your fingers.
These exquisite 7 rings have polished silver bands. making the jewelry you wear stand out in the crowd. These rings come in a variety of patterns, from woven artwork to floral motifs. These delicate accessories are yours to mix and match as you choose.
Add these rings to your collection right away. The polished band features consistently original designs. With a quality built guarantee. Order Now 7 Pcs Silver Bohemian Adjustable Silver Midi Band Dainty Toe Ring Set
Adjustable Silver Plated Oxidized Bohemian Braided Toe Ring
This toe ring is expertly created by hand. These rings feature ancient designs carved all over them and are adjustable, giving them a very stylish and bohemian appearance.
Your jewelry collection can benefit greatly from the addition of this stunning toe ring set. Any outfit will go perfectly with it!
These are alloy-based.The ring is adjustable and may be made to fit any finger size.Each artwork is genuinely a special and heartfelt present. Order Now Adjustable Silver Plated Oxridized Bohemian Braided Toe Ring
925 Silver Adjustable Hammered Foil Boho Midi Tribal Band Toe Ring 
Your casual outfit will look great with the sterling polished base that perfectly sets the trend, with a good pattern that gives the accessories a sweeping effervescence.
You desire a variety of colors. Don't worry; we provide the ring in silver, black, and golden variations. Depending on your preference, the band color will change. While silver is clearly the substance used.
A foil pattern with creases. You must always have seen beautiful jewelry. It's time to examine the beauty of this wavy name ring. This substantial sterling silver ring is gorgeous with its irregular texture.925 Silver Adjustable Hammered Foil Boho Midi Tribal Band Toe Ring
Black Bohemian Midi Tribal Beach Stacking Wide Band Toe Ring
Specially crafted from 100 percent pure silver, this toe ring. This brilliant jewelry, with a silvery polish, is everything you need for your rotation. From us, specially created quality. 
Other colors are also available for this toe ring. If you're not a fan, flaunt your sterling silver toe ring. Your best option is then our black toe ring.
Whatever the color, the size adjustment is still there. If you require a larger or smaller size. With our adjustable silver ring, you can relax. 
This ring's design is something you should pay attention to. with a silver and black mixture. The two colors have a lovely contrast with one another. Order Now Black Bohemian Midi Tribal Beach Stacking Wide Band Toe Ring
925 Silver Slim Leaf Bohemian Adjustable Dainty Band Toe Ring
This thin toe ring has an exceptionally stunning design. The silver base is delivered with a black exterior. 
However, the silver engraving on this black frame is significant. All that can be seen in the imprints is a linear leaf pattern. 
There is no space for regret with this little silver beach ring. The craftsmanship and design of this ring. The aforementioned items are all of a high caliber and made of silver. Order Now 925 Silver Slim Leaf Bohemian Adjustable Dainty Band Toe Ring
For a thoughtful Mother's Day present, place your order right away. It seems appropriate to give your deserving mother a sterling silver ornament, don't you think? 
Give it as a gift to loved ones or widen your circle. Upgrade your gifting collection with new charms and accessories! Be a captivating persona.
925 Silver Colourful Floral Bohemian Indian Bichiya Midi Toe Ring
Introducing a simple item with a floral appeal. This toe ring will undoubtedly draw interest. With our new toe ring, you may stroll in flair. This ring is made of silver and is adjustable to fit various sizes.
This ring's design is admirable in every way. A thin silver band ring with a round floral charm placed in the middle. 
A brilliant inner stone and colorful drips support the flowery charm. making it clear that you should buy this toe ring.
You can purchase a single set or two sets of one. We provide you the freedom to make your own decisions.Order Now 925 Silver Slim Leaf Bohemian Adjustable Dainty Band Toe Ring
Pure Silver Adjustable Large Leaf Midi Band Dainty Zehen Toe Ring Set
Silver makes a great beach accessory and is therefore a great summertime choice. To create jewelry that would capture people's attention for you, we have picked this highly polished sterling silver.
We kept our word, the base of the toe ring is silver. A glossy, glittering beauty with an exquisite appearance. 
This ring was not intended to be left unadorned. In order to give the design a lovely, exquisite appearance, we put a twist to it. From conception to delivery, this design is handled with the utmost care.
Our toe ring has more features than just that. A thin, adjustable band is also included with this item. This is to ensure that wearing our unique jewelry won't make you uncomfortable. a size that is universally suitable. Order Now 925 Silver Slim Leaf Bohemian Adjustable Dainty Band Toe Ring
925 Silver Floral Bow Adjustable Silver Midi Band Toe Ring Set
We have selected a wonderful silver slender toe ring for you from our wide selection. Make your own judgment about this bohemian ring. Does it matter if a certain ring fits your fingers? Don't you have to worry about this all the time? In light of this, the ring we are bringing has an adjustable band.
This ring, which is designed to exude calm vibes, fills in any gaps in your fit by adding the necessary strokes. The ring is made in a bohemian style with pure, fine silver and rocks off with the bright hue.
This ring has an absolutely stunning design. A floral motif has been etched into the polished silver. What makes the ring ideal as an addition is its polished, silver flower design. Order Now 925 Silver Floral Bow Adjustable Silver Midi Band Toe Ring Set
Wrapping Up
Since countless years ago, toe rings have been an essential component of Indian weddings. They are worn as a sign of marital commitment and have significant cultural, religious, and health significance.
Toe rings are placed on the second toes of both feet and come in a variety of materials and styles. Traditional toe rings are still a significant component of Indian culture today and serve as a fashion statement.
It is an important part of modern jewelry. Get the best toe rings ever on The Colourful Aura's online store and that too in the best and the most reasonable prices.
The goal of The Colourful Aura is to always bring its clients joy and happiness. We always put the happiness and satisfaction of our customers first and strive to provide you with the best and most distinctive jewelry products.
We are once again providing the top toe rings in fashion jewelry. Your feet look stylish and incredibly elegant with toe rings. Despite being a piece of conventional jewelry, it completes the overall contemporary look of the current fashion.
To fall in love with jewelry, explore our enormous selection of stylish and aesthetically pleasing jewelry. Look at the thing we have right now. Make your loved ones feel special by ordering the best toe rings or Indian Bichiya today. You should also treat yourself to the best toe rings fashion jewelry you must buy in 2023.