10 Best Sterling Silver Statement Rings To Own This Summer
From elegant gem cocktail rings to classic wedding rings, sterling silver statement rings are adorable and complement everything. These rings are famous for their remarkable value and minimalistic look. Sterling silver metal is durable, versatile and soft enough to be inscribed or moulded into a variety of ring designs. This is one of the leading metals chosen for jewellery and is an incredible option when shopping for women's and men's accessories. Add on a sterling silver statement ring to your jewellery box or give it as a gift, The Colourful Aura jewellery store has all your needs covered.
Here are the 10 best sterling silver statement rings to own this summer:
925 Silver Stackable Adjustable Chunky Cross Band Cuff Ring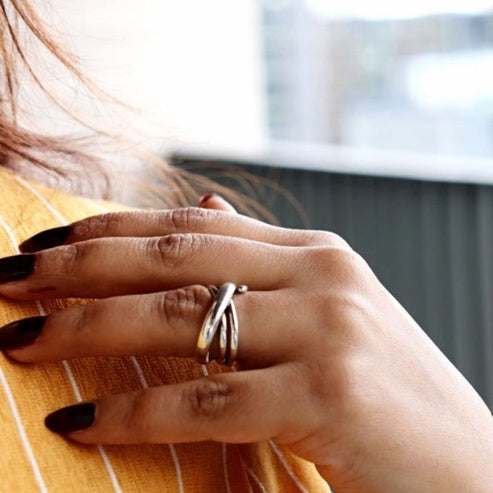 This is a chunky 925 silver hog ring. Comes with a stackable adjustable open ring band. This fashion jewellery can be worn by both men and women. Any age group can wear these rings and look chic and elegant.
The ring is available in two primary colours gold and silver. These rings are very trendy and everyone should have one perfect pair of chunky rings.
2 Pcs Wide Enamel Adjustable Wide Gold Band Cuff Ring Set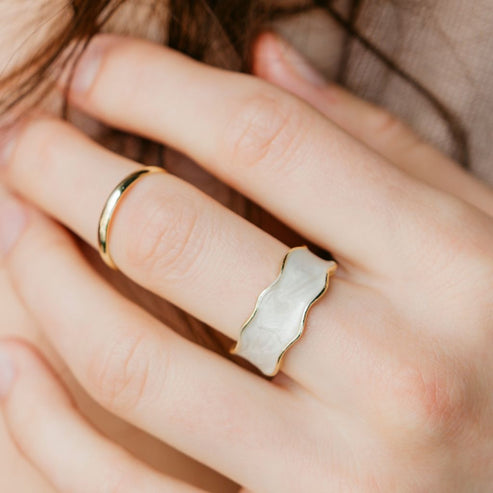 This eye-catching pure silver band adjustable ring comes with white enamel polishing on it. It purely shows the wisdom accompanied by fashion good fashion sense all over. The first piece ring has a golden base colour, and with a slim design, it rocks as a half-ring to fit your fingers. The 2nd piece we offer is drool-worth. It is a unisex minimalistic curb Cuban ring. You can buy them here
Adjustable Thick Hammered Silver Irregular Cuff Band Wave Ring
It is an adjustable wide-band sterling silver cuff ring. This fashion jewellery is precisely for large fingers and thumbs are resizable jewellery for women. the material used is undoubtedly silver.
An Irregular wave design. You must have always seen perfect jewellery. Now, time to see the perfection in this Irregular named ring. The uneven texture of these thick sterling silver rings is worth drooling over.
Adjustable Chain Band Ring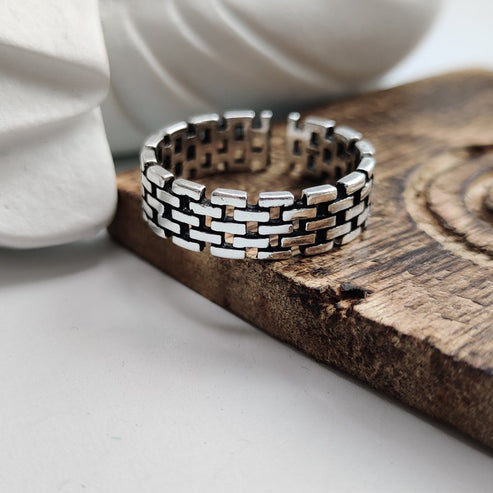 It is a thick link chain open stacking silver and plated ring. It is a piece of unisex fashion jewellery that gives you a classic boho and hippie look. Delicately sits on your finger. Adjustable ring size. Together with a minimalistic touch, the ring looks absolutely stunning and contrasting with each other. This man's ring appears strong and chunky. A bold look for your outfit. This ring is adjustable and can fit any finger.
Sterling Silver Love Couple Promise Hugging Stackable Wave Ring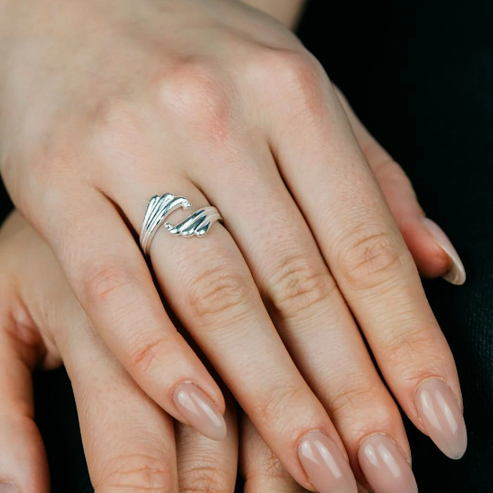 It is a silver love-hugging hand stackable ring. With a minimalistic design, it is handmade with utmost love, which is signified by the ring as well. Comes in two colours, golden and silver.
The silver material looks sleek and beautiful appearance makes it ideal for use in jewellery of any kind. This ring has a beautiful, timeless design with a hand holding a lover's hand. 
Adjustable Flat Top Square Thin Open Signet Solid Sterling Silver Ring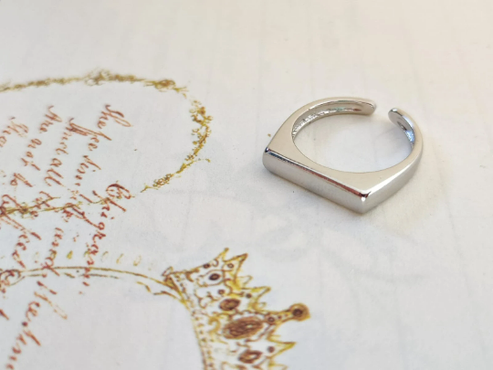 This jewel is a square geometric cube dainty modern minimal ring. The material used to make these rings are metal alloys; it is the best material to get the crisp and finished look. The ring will give you a very elegant and aesthetic touch, with any outfit. It has the classic hippie and boho vibes and you have the benefit of free shipping on this product. Get your ring today
Adjustable Silver Thick Double Celtic Love Knot Band Cuff Ring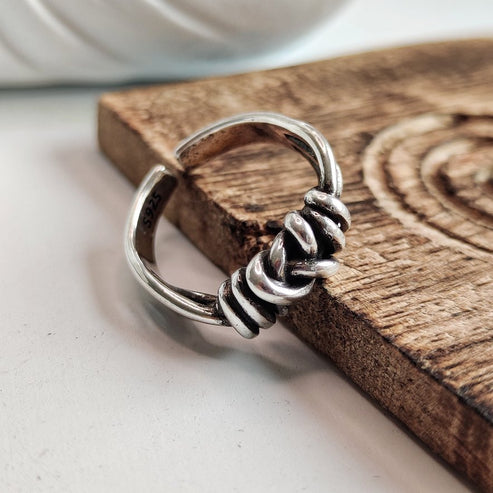 This fashion jewellery is a silver adjustable sterling Celtic promise chunky love knot ring. It is a thick double-knot ring.  Purely made from the shining silver. Delicately sits on your finger. Adjustable ring size. With the thick double knot design the ring looks very classy and elegant. This ring is perfect for any small family dinner or fancy event. 
Silver Plated Vintage Sun Flower Daisy Wide Cuff Band Ring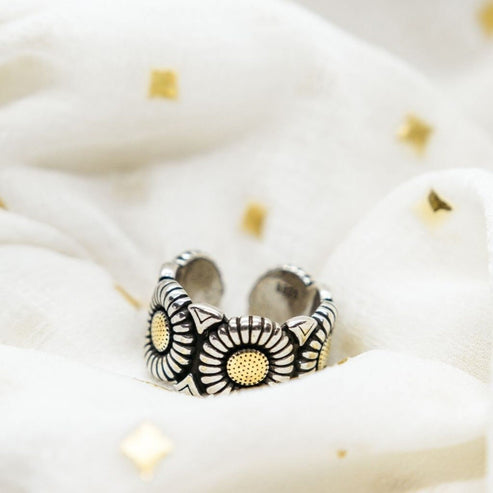 This is a silver-plated open sunflower wide cuff band for both men and women. It carries a vintage daisy boho and hippie look. The design for this is simple, yet gives beauty to the wearer. Like the usual rings, this one is also available only in circular shape. Anyone can make out the symmetry in a circle.
Silver Sunflower Daisy Tiny Slim Adjustable Floral Stackable Ring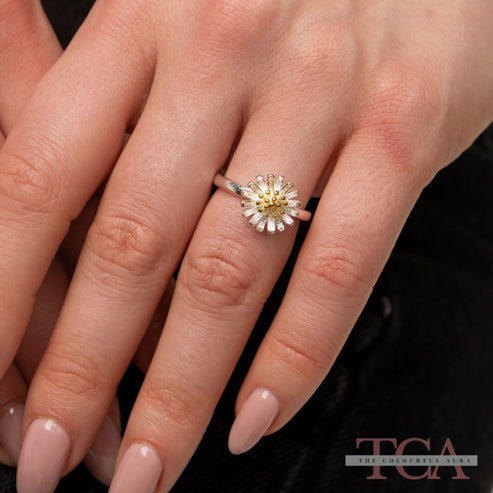 This heart-throbbing jewel is a wide-band adjustable colourful flower ring. It has an irregular open cigar band made specifically as a statement ring with minimal design. Click to get your ring. The Colourful Aura online jewellery store Sterling silver rings are durable for life. Even if you do not want lifetime jewellery, Sterling Silver is still a creative purchase because with it you can easily keep up with ever-changing fashion trends. At The Colourful Aura jewellery store, you have endless options to choose from with remarkable versatility.