5 jewellery items to complete your summer look!
Summers are the most cheerful season of the whole year. It is the moment to experiment with fashion and go with the ever-changing trends. Be it your summer tours, hangouts, family picnics, friends reunions or pool parties, you should be summer-ready with the trendy collection.
Summer is one of the most dress-up seasons as the clothes are not that puffed up like that we wear in the winter. Making the jewellery visible the dire need to look good also starts up. The feminine urge to look better than other females needs to be fulfilled. So the team of the colourful aura has come up with the jewellery items you can wear this summer.
Here are 5 jewellery Items to complete your summer look 
It took us a lot of effort to calculate and bring up for you the best and latest collection from our page too. This collection will help you look stunning on every occasion. Let's have a look at one;  
CHOKERS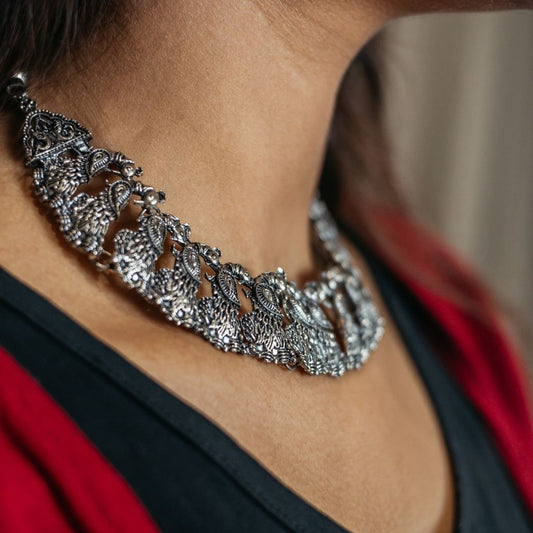 A Choker Necklace is a simple option to revise a look without struggling too hard and one that will not blow the budget. The elegance floss overwhelmingly out when your neck is fully dressed up. It furthermore underlines your elegant collarbones. When we talk about jewellery there are so many things like necklaces, earrings, and watches, but necklaces are one of the most loved jewellery. A necklace brings all the attention to your neck and face and will surely make some heads turn. So, the best justice with chokers is to pair them up with one-shoulder or off-shoulder dresses to get the summer fashion ready. When we talk about trends one such trend is the choker necklace, chokers have been in trend for ages and everyone loves them. Chokers are still very trendy and elegant; everyone loves chokers including women of all ages. Chokers can be paired with any outfit and are ready to rock the event.
There are so many things we can do with chokers to make them more stylish and trendier. We can add pearls, beads, and charms to any chokers. Check out our huge collection of trendy and elegant jewellery and find the perfect jewellery that you love.
BIG, BOLD EARRINGS
Summer is the period to heave your hair back in a bun or a ponytail and play with varied sorts of braids. This is a fine way to win against the heat and yet look wonderful, but you should have the precise earrings to bind an outfit together. Whether you are headed out for lunch or getting on to dinner, be sure you have got your big bold earrings with you. The outstanding alternatives are classic studs, precisely the earrings covered in metal or more artisan, somewhat boho-style earrings that droop and have many colours.
The outstanding alternatives are classic studs, precisely the earrings covered in metal or more artisan, somewhat boho-style earrings that droop and have many colours. Earrings are a very significant accessory for women because they emphasize the elegance and beauty of women. Like the maximum aspects of jewellery, the perfect pair of earrings can make you and your outfit look exceptional. No matter what sort of vibe you are going for, earrings can be made to complement your style flawlessly. If you are heading out for a dinner date or a party evening, try putting on a glamorous pair of fashion earrings. Earrings amplify any of your outfits and make you look pretty.
BRACELETS, BRACELETS, and just BRACELETS
There are various types of bracelets, and various styles for various occasions. A chic flowery bracelet or an elegant wristband. A bracelet to go beyond the gender barriers like the unisex band. Or the bracelet sparkling with a summer radiance like the floral design. All in all, a bracelet is time-immemorial and always fashionable.
And let's be honest, a bracelet adds a whole different vibe to your outfit! Now, that's an undeniable fact, isn't it? From an official meet-up with your fellow employers or a fete gathering with your fellow friends, a bracelet is a must to go with your look. It either adds the professionalism you need or can prove to be a fashionable item to boost your merry atmosphere.
When you imagine winter, you instantly imagine cute hoodies and cosy bandannas. When it is time to remove these coatings away in the summer, you eventually have more skin to play with. Use the sleeveless summer moods and start putting on some more arm candy. The prominent summer trend this year is to load up many delicate bracelets at a time or just wear some bulky styles together. 
MIX AND MATCH
Jewellery plays an important role and has a great impact on a woman's life as it allows her to feel beautiful and confident. An attractive piece of jewellery makes the woman appear strong, confident and gorgeous, which lasts a great impact on her in both ways personally and professionally.
Another aspect the jewellery trends are facilitating is less matching and more self-expression. You do not have to wear a similar earring every year, or even have a second thought about having many bracelets style flawlessly together. This summer, the most prominent jewellery manias are all about breaching rules and coming out as yourself. Opt for a large, bold earpiece on one ear and a modest stud on the other. Perhaps wear a delicate dangle to give an even sharper contrast.
LAYERED ACCESSORIES
It's an age-old favourite question of women. Give them a wardrobe filled with accessories. Well, maybe two or three wardrobes. The most trendy question of theirs will always be 'What to wear'.
They are not ungrateful or such. It's just that they need to consider all the up-to-the-minute fashion trends of the time.
It's not like you'll not relate if you have evergreen jewellery. Some accessories are very durable, but one gets tired of them at some point. In the end, things go down to the current fashion.
Bid goodbye to worry with the introduction of our new multi-layered sterling silver jewellery. Made with modern style to fit your ever-changing wardrobe. Deck up the various details the jewellery is customised with, and you will get a perfect match for your forever headache on what to wear.
There is mixing and matching and then there is layering various jewellery chunks together. Many women are going out in delicate chokers layered with long neckpieces, or minimal rings in addition to their numerous bracelets. It is one thing to understand which jewellery would look best on you and another to see where you can find the best jewellery. Well for now you do not need to find a place for the best jewellery, you are already there, we at The Colourful Aura cater for you with the best minimalistic jewels to complete your summer look!