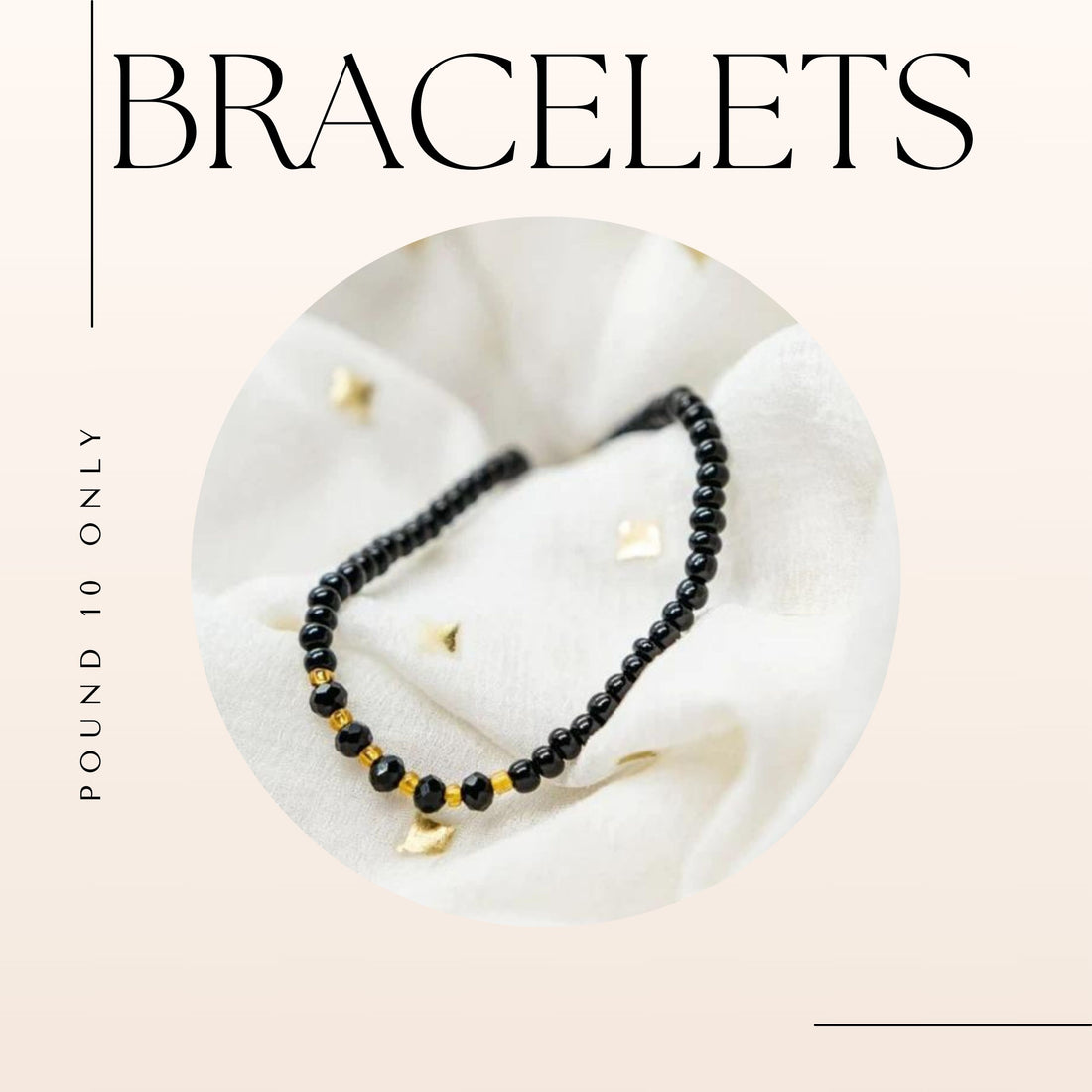 bracelets under 10 Pound Must Buy
Bracelets under 20 Pounds - Being here indicates that you enjoy bracelets. Would you be interested in learning more about the features they have? Would having enough information on them be nice? 
By doing this, you can increase your affinity for wrist-wrapped bracelets. These timeless jewellery items are always in style. Who among us wouldn't want to try out the latest fashion? 
If you're looking for a trendy bracelet, you've come to the perfect place. You can proceed to this page's many categories of the most popular bracelets. 
You can choose from a wide selection of fantastic jewellery items from "The Colourful Aura" with stunning features. With our selection of bracelets, there is simply always more. We refer to variety as the various forms and fashions of them. Even if an object has the same style, the distinction in its design distinguishes it. 
We now expose you to several bracelet categories: Bangle bracelets or the most popular cable chain bracelets. You'll be speechless when you consider the possibilities. Mixing and matching these jewellery pieces is enjoyable as well. You should display how nice and joyful you are. 
If such is your goal, we advise you to look through our choice of bracelets in the bohemian style. You are shown the most incredible bracelet designs by "The Colorful Aura."
Bracelets under 20 Pound - Must Buy
'The Colourful Aura' offers you the most astonishing handmade bracelets for just under £10.00. Isn't it amazing? 
Check out a few of them for references. After that, be sure to look through them all in "The Colourful Aura's" beautiful variety of handmade. 
Black Beads Elegant Indian Mangalsutra Nazaria Tiny Beaded Daily Bracelet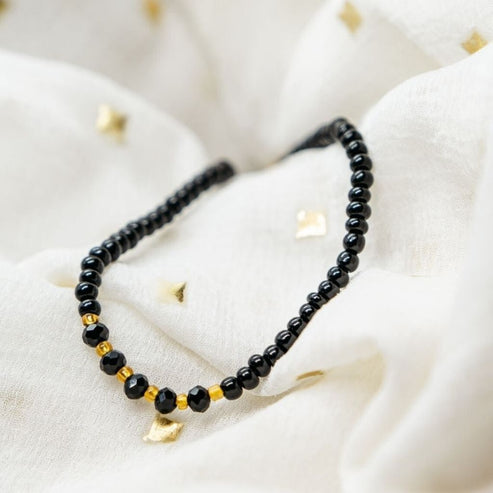 Do you wear a 'Mangulsutra'? Whatever people say, the importance of this jewellery in Indian fashion is widely known. It's a gold string beaded with black beads. Radiating an elegant aura, this jewellery is always in a manner. You are throwing in some style from our side, making a beautiful, smart bracelet.
It's knowledge to everyone how adding a bracelet to your look can make one look dignified or jovial, etc, depending on your style. At 'The colourful Aura', we aim to do just that. We serve you with different stylish designs to help you rock your look. This time is no exception as we bring you a "Nazaria Mangalsutra Bracelet" filled with love.
They are fashioned with firm golden thread decorated with polished, tiny black beads—a beautiful variety of colours. The length of the golden fleece is ideally 7.5 inches, with no extra modifications.
Minimalistic-inspired products usually give a modern feel to the jewellery. And the same goes for ours. Didn't we add the style? 
Not betraying anything we said, the Nazaria Mangalsutra Bracelet is designed with a charm of modernity—an elegant charm for you.
Purely handmade using tiny and glistening black beads for daily use. Order now as a protection charm for yourself. 
Handmade Genuine 7 Chakra Balancing Crystal Reiki Healing Adjustable Bracelet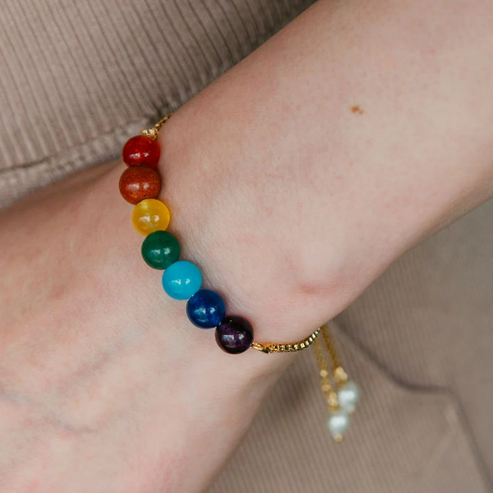 Second bracelet under 20 pounds, no matter what anyone says, the yoga starter pack is usually packed with adorable fits and accessories.
Surfing through them, one must have come across these mediating techniques' deep and healing properties. Our latest accessory for today also talks along these lines. What we brought today is a bracelet. Though, the details of this bracelet are what sets it apart as a notable entrant.
Concerning your yoga cycle, you might have read about balancing your Chakra. Now, what is Chakra? It isn't just singular. Instead, there are various focal points used in multiple ancient meditation practices. These are better known as Chakras. The concept of the chakra has been popular in the early traditions of Hinduism. There are mainly seven Chakras in the human body.
Now, did you end up at a yoga class? Not. You are actually at the right spot.
Designed with the 7 Chakra gemstones, this bracelet gives you all the beauty with its straightforward design. It is styled in a Bohemian way to make it fit for a comfortable yoga look. Dainty and gorgeous Chakra gemstones align to give this bracelet a bold and defining look.
The gemstones included are- Red onyx, carnelian, yellow jade, green jade, Turquoise, lapis lazuli and amethyst. All in that exact order. The glassy surface of these gemstones provides a shining reflection.
With its slide lock closure, one can always rock with an adjustable size—a necklace of the same design provided with the Chakra Bracelet. 
MULTICOLOUR FLOWER CHARMS BRACELET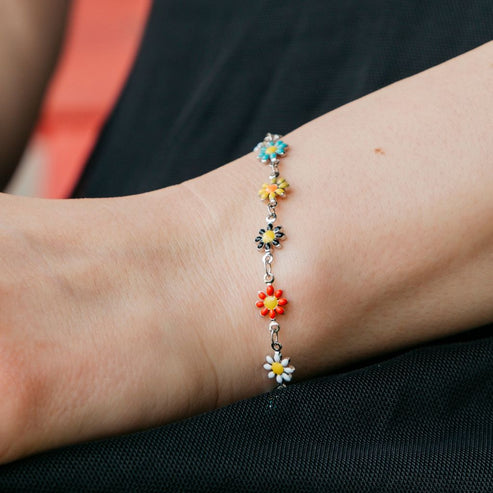 Third bracelet under 20 pounds - The floral charm beads have a delicate feel and are multicoloured with exquisite aqua petals and yellow interiors. The bracelet incites a fashion-fused, free-spirited flow. The daisy-and-floral bracelet is made in a bohemian and hippy aesthetic. 
A 22 cm long, thin gold-plated chain connects the beads. Adjustable up to more than 5 cm in length. Seize this summer's pleasant and extraordinary charm—a calming fusion of hippy and bohemian fashion under 20 pounds. A lobster claw closure holds the pieces together tightly for further stability. 
Beads with floral charms and metal alloys were used in the design. Be quick! You won't want to be unsure about what to wear this summer. Order the floral bracelet right away for a distinctive and lovely summer look! 
Adjustable Butterfly Evil Eye White Enamel Dainty Charm Protection Bracelet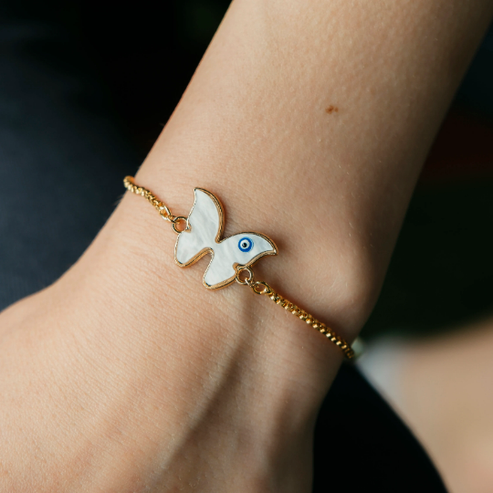 Fourth bracelets under 20 Pounds - Butterflies have a long symbolism in today's world. They represent change and transformation, comfort, hope, and positivity throughout the globe. They are such a blessing spiritually too. Butterflies are so popular that even women's and children's jewellery comes with their calling.
That's not all; we have even added a tiny protection charm to the bracelet. It gives you extra protection with its delicate design.
Just like now, the butterfly jewellery we present today will spark your attention. With the meaning these winged species hold in a human's life, we have decided to take the initiative and give this accessory a sparkle with a modern look.
A gold-plated bracelet for you. Giving you the flexibility of adjustment with the slider present for you to adjust the length. A total of max. 8 inches stretchable.
With a white handmade butterfly design and a tiny evil eye charm to boost the look. The golden cable chain with the adjustable length is sideways to the bracelet's main detail. A blue evil eye charm adds the contrast between the white filling of the butterfly frame.
It is purely handcrafted to retain the quality of the respective charm bracelet. If you still have doubts, why not try it and then test it?
They were thoroughly handcrafted to fit in the comfort of our customers. The materials are metal alloys and Turkish evil eye beads.
Hurry up! You won't want to be indecisive about your beautiful, protective wear. Order the butterfly evil eye charm bracelet now,
CONCLUSION
We have a sense that these designs must have moved you. It must be noted that these are not the only design, though. The "The Colourful Aura" website has a lovely selection of exquisite jewellery items, including staggering bracelets waiting for you. 
Visit it today to find the most beautiful pieces of personalised jewellery for you and your loved ones at just £20.00. So stop thinking further and cease repressing your desires. Buy them right away!