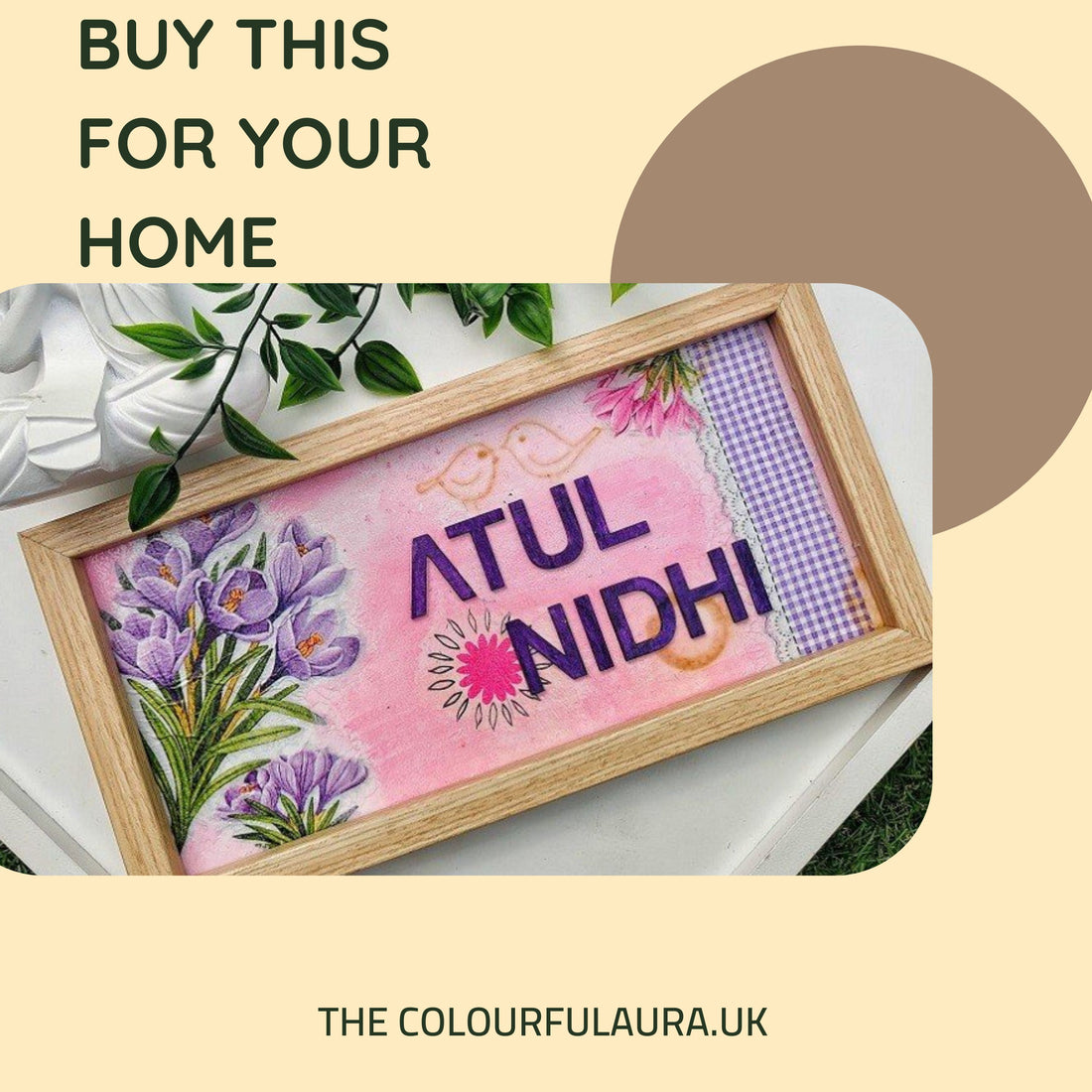 Not sure what to gift this Christmas? Try our personalized name plates.
In anyone, a house is not just a building where people live, it is much more than that. It is an extension of them, something that defines who they are. That's why it is important for one to invest in the renovation and decoration of their residence. Investing in a nameplate or plaque can be a way of doing that. It is a small yet significant piece of artwork that you can place next to your doorbell or mailbox, which will always remind people about who resides within the house. It is style statement to have a Personalized Name Plates at the door.
Nameplates
are not only more personalization but also practical as others will know where they can find you through this decoration. In terms of customization options, there is an almost unlimited variety from which you can choose from including different fonts and sizes. Moreover, they can be mounted at different heights and you can place them facing in all directions. Personalized name plates reflect your taste and style within the house. Nameplates that are made of wood or metal look more elegant while those made of glass look more delicate and modern for a house.
Customize your nameplates at The Colorful Aura
You can even customise your nameplate to fit your needs, we at The Colorful Aura can do it for you as per your needs. Colour might not be the only aspect on your mind when purchasing a nameplate which is why selecting paint colours can also have a huge impact on the overall look of the house. In this case, it is good that you carry out an experiment by spilling test paint onto paper first until you find that one colour that best suits you. Furthermore, you can not only match the colour of your house with your nameplate but also with the number of people who will be living there. For example, if your family is big, you can opt for a small plaque that is colourful yet minimalistic. On the other hand, if you are staying alone at home, you might want to keep it simple and elegant in order to add a certain 'homey' vibe. Moreover, one of the most artfully rustic nameplates is done in paint or wood cutouts. The idea behind this name tag is to have every piece of furniture within the house being able to be seen from wherever you are in a room. It makes the house more homey and personal when you can see what furniture belongs to whom.
Personalised House Name Plaque
Get your home a warm welcoming boho-chic handmade nameplate with a jute finish to give a red carpet welcome to your friends and family. We at The Colorful Aura work precisely to make your personalised nameplate look eye-catching. Apart from this, you can also gift this handmade beauty to your loved one's as a perfect
Christmas
Gift
Wooden House Boho Home Sign
Embellish your home's door with wooden House Boho Home Sign Personalized nameplates by keeping your needs in mind. Not sure what to give your loved one's this Christmas? Well, we are here to help you. Gift your loved one's a customized wooden nameplate for their home. We bet this to be one of the most thoughtful gifts.