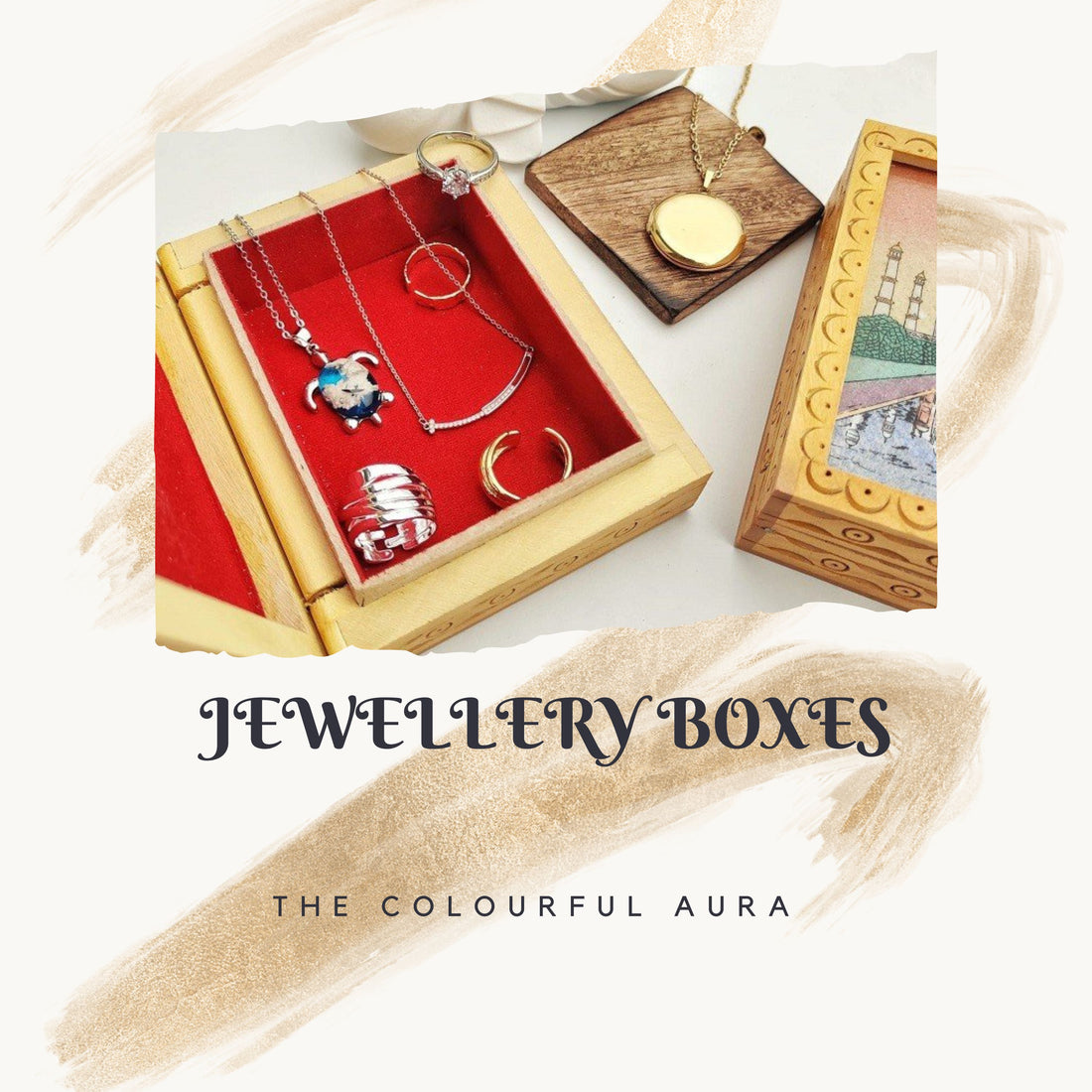 Treat your special one's this Christmas with handmade Indian jewelry storage
Jewelry boxes are a great way to store your valuables. They also make wonderful gifts, are quick to make, and are surprisingly easy to personalise with what you have handy.
Read on for many tips and tricks on how to create the perfect jewellery box that suits your needs.
#1 - You can use all sorts of containers for your jewellery box! From old cereal boxes to coloured plastic cups, shampoo bottles or even egg cartons - there's no end of ideas! Just be sure that whatever container you choose has enough room for all of the jewels you own. #2 - Use pencils or pens as dividers so it's easier when looking for certain items. #3 - Make sure the dividers are lined up straight and fit together snugly! This will make it easier to organize your jewellery box. #4 - You can also use small playing cards or alphabet cards for your dividers if you find them handy. #5 - A whole lot of space can be created by adding strong dividers between each item in the jewellery box.
Reasons to Buy a Jewelry Box
Sometimes when you are in the shop window, the jewelry boxes might catch your eyes. They are often made of different materials, shapes, and colours. If this is one of your reasons to buy a jewelry box, read on for some tips on how to make the most of what you get at the store. An array of unused jewelry boxes. If you buy a jewelry box, the first step is to consider the material it's made from. Here are some important points you should take note of when it comes to choosing a jewellery box. The Indian handmade vintage jewellery box from The Colorful Aura will satisfy all your needs for a jewelry box.
Jewelry Box Construction
The way a jewelry box is made affects its durability and lifespan. A lot depends on what you plan on using it for. Jewelry boxes that are prone to wear and tear should be made from a tough material like metal or wood which takes a long time to wear out. If you plan on putting delicate pieces inside, then make sure the one you get is soft enough not to harm your items in any way. When it comes to durability, handmade Jewelry boxes at The Colorful Aura makes a strong statement.
A perfect Christmas gift for your loved one's.
As mentioned before, a jewelry box can be made from different materials, shapes, and colors which means that there is a whole world out there for you to explore when looking for one. Gift your loved one's a perfect Christmas gift, gift them a handmade vintage box from The Colorful Aura. There are many benefits that come with owning a jewelry box which includes:
It is convenient – where else can you keep your precious items except in the safe and secure confines of your jewelry box? You can keep them well-protected from damage without having to worry about them getting wet or dirty.
Treat your special ones with this perfect
Christmas
gift- a handmade Indian Jewlery Box.