Anklet Meaning - What is an Anklet?
What is an Anklet? - Heya Amigos! Hope you are doing all well. We're giving you something brand-new and unique today. We're going to talk about a piece of jewellery that women adore. You had to have guessed it, right? Your favourite jewellery item is this, Anklet. 
Some of you might not be familiar with them, while others feel it interesting to learn more about them. We are here to provide all pertinent information on anklets, both exciting and practical. We will also discuss the most stunning and distinctive anklets with you.
Its availability, as well as its pricing and design. So let's begin this incredibly fascinating topic.
What is an Anklet?
A piece of jewellery that you wear around your ankle is an anklet. Anklets made of silver or gold. Indian women wear them on both anklets as a mark of beauty, tradition and marital status. 
Anklets have a special significance when it comes to the culture and tradition of India. Married women wear anklets, known as 'Payals' in Hindi, which are metallic strings wrapped around the ankle. 
These are often made of silver, but lately, ladies also use anklets made of gold, which is not allowed because gold is a symbol of Lakshmi, the goddess of wealth, and wearing it on one's foot is considered against religion.
WHAT DOES AN ANKLET SIGNIFY?
The anklets were once given to the bride by the groom as a symbol of love and the desire to become her legal husband, just as the wedding ring is typically worn on the left ring finger to express its owner's marital status. 
Anklets are exquisitely crafted to enhance their beauty with bells, pearls, beads, and small stones of various colours. When a newlywed woman visits her husband's home for the first time, she receives these gifts. They are typically for married ladies. However, single girls also wear them, which signifies courage and pride. 
Ankle bracelets have different meanings in different cultures depending on the colour and design. The meaning of each of these anklet varieties varies depending on which foot you wear it on.
WHICH ANKLE SHOULD AN ANKLET BE WORN ON?
It is a rather typical query. Which ankle is best to wear an anklet on, people used to wonder. We are here to give you the most significant, most suitable response to this. It is not a generalization to say that only members of this class can wear them. 
Unusual to highly unusual, and also bizarre styles are fashionable right now. Even in this setting, everything you wear frequently becomes a fashion statement. Therefore, guys might opt to wear them in addition to women. 
Regarding whatever ankle you want to wear the anklet on, that is entirely up to you. You can wear an anklet on your left ankle if it looks more lovely.
BEST AND MOST UNIQUE ANKLETS
After watching the significance and elegance of the anklets, we are sure you must be looking to buy one for yourself and your loved ones. You might be looking for the best anklets for women and amazingly designed anklets for men. We will tell you the best store where you can have a ride of the fantastic fare of anklets. The best part is you need not go anywhere. All you need to do is visit 'The Colourful Aura'.
It is the best seller of artificial jewellery and other articles for women. You can find many jewellery articles with a wide variety of designs, sizes, colours and shapes. Talking specifically about the anklets, many fresh articles of anklets have been added to the cart. They will not only win your heart but will also comfort your pockets. 'The Colourful Aura' presents the top quality articles of jewellery at the finest price. 
This store is also offering a lot of such excellent articles at exclusive discounts. All you need is to click on the website link. It will take you to such finest quality handicrafts that you must not have seen before. That too in the finest and most affordable range. Let us acquaint you with the manufacturers. 
These heart-winning articles are manufactured by the small artists of the United Kingdom. The company is based in the United Kingdom. Every article and jewellery piece is made with utmost love and affection by the hands of the artists. Let us now show you some of the most astonishing crafts of this best-seller:
Colourful Daisy Sun Flower Charms Summer Anklet: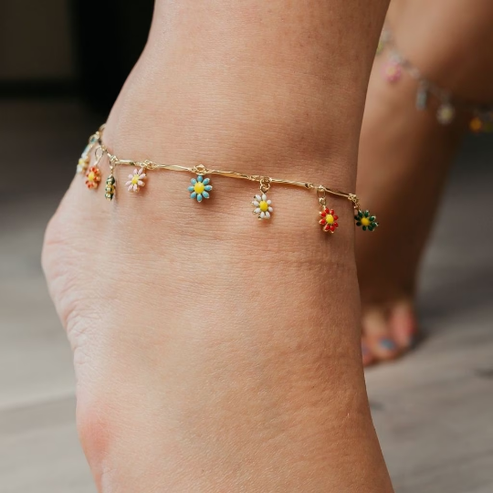 This stunning anklet is exclusively presented by 'The Colourful Aura' and handcrafted by the small artists of the United Kingdom. This is designed in a Bohemian Colourful way. The beautiful concept of rainbow colours and sunflower design make the ankle's charm irresistible. 
The ankle is adorably designed in a stylish look, making the same a necessity of a fashionable summer. The adjustable golden chain is available in multiple sizes and two colours. Moreover, it is available in quite an accessible range. 
This unique, latest and most elegant design anklet must impress you. If you want to inquire more about this anklet, we strongly recommend you visit the website. Just do not let the chance of grabbing it. Order it now before it gets out of stock. 
Cowrie Shell, Turquoise Beach Boho Anklet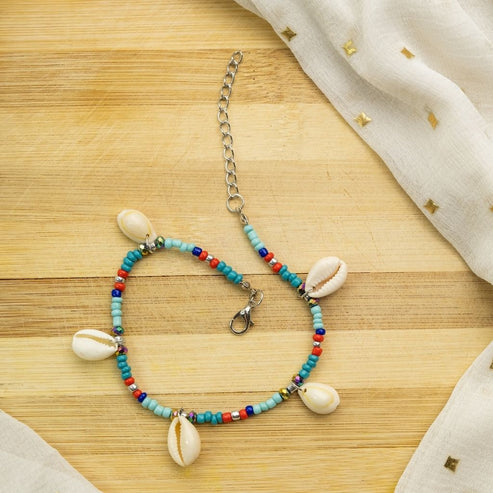 Have you ever seen an anklet with sea shells and beautiful turquoise-coloured beads embedded in a chain? If not, then be ready to see one. 'The Colourful Aura' presents the most unique and latest design of anklets. It is made of fine metal alloy with a lobster claw closure in a Boho & Hippie design. 
The small-scale manufacturers of London are the ones who are creating tons of emotions and love. The shells add to your beautiful look by dangling during their swaying movement. So what to think more? 
Get ready to look much more fashionable and stylish, giving your ankles a beach look. Check the website and know your desired product even more. Now available at a very feasible price. Quite limited in stock, order it now to own this stunning product at the most affordable range.
WRAPPING UP
It is not the end. Once you visit the site, you will get endless products with varied designs and stunning looks. We recommend you check the website of 'The Colourful Aura' to find these astonishing and exclusive anklets. No need to think more! Find the best anklets for you and your loved ones in just one tap! on The Colourful Aura | Find us on Facebook