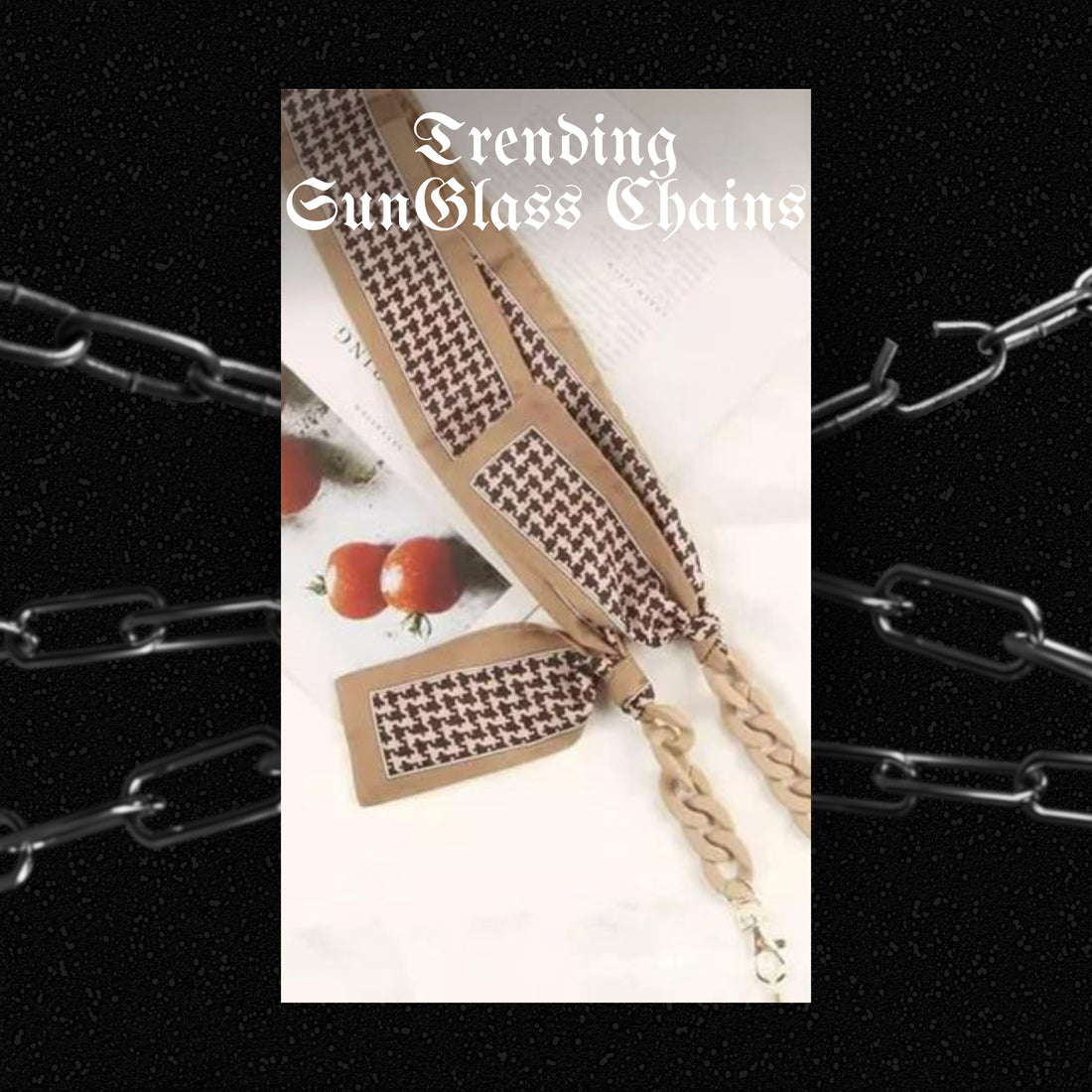 Trending SunGlass Chains in the UK 2023
The newest trends of 2023 are here!!! Sunglass chains, also known as eyeglass chains or leashes, have a history dating back several centuries. They were primarily designed to help people keep track of their eyeglasses or sunglasses and prevent them from getting lost.
HERE ARE A FEW GLASS CHAIN IDEAS FROM THE COLORFUL AURA FOR YOU.
The variety is never-ending, but choosing according to your taste and genre is a huge task. But when you come on board with The Colorful Aura, things get way more accessible than ever.
The list is here from our side. Make sure you choose the best out of the best and make your styling go glam.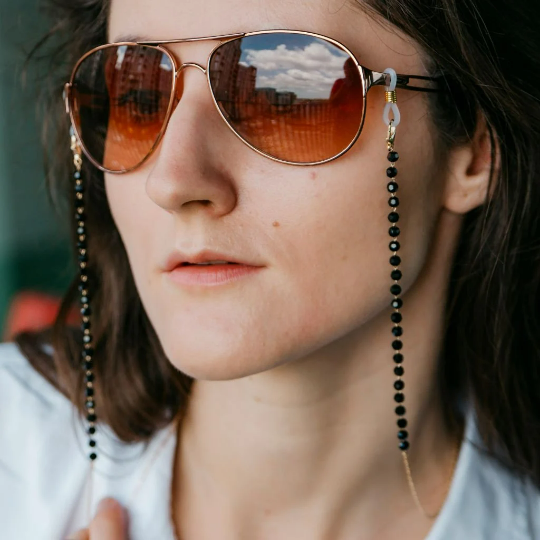 Our Black Bead Silver Sunglass Glass Chain, crafted from beautiful black crystal beads, exudes elegance. Its universal appeal means it pairs effortlessly with any outfit, making it an ideal accessory for Christmas, Mother's Day, or even the bustle of Black Friday shopping.
Available in gold and silver plating options, this eyeglass chain presents a perfect harmony of aesthetics and functionality. Its detachable feature allows you to switch up your style whenever you wish. The varying sizes, ranging from 52cm to 70cm, ensure a comfortable fit for everyone.
To keep your chain pristine, avoid contact with water and avoid wearing it in the rain. With some care, this stunning accessory will be a staple in your jewellery collection for years.
Why not transform a practical necessity into a stylish accessory with the Black Bead Silver Sunglass Glass Chain? 
It's not just about holding your glasses but doing it in a way that radiates sophistication and charm. Order yours today and witness how this little detail can make a big difference to your style!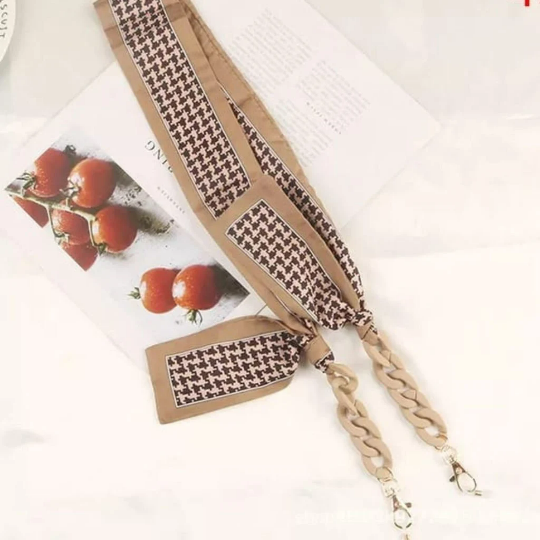 Boho or hippie, no matter what your style is, our Multicolour Printed Scarf SunGlass Chain will enhance your look while ensuring your sunglasses stay securely around your neck. A sunglass lanyard isn't just about function; it can also be a piece of your style statement. Sunglasses become a must when the intense sun hits during the summer season. Why not add a touch of fashion to the mix?
As the world realises the importance of sunglasses, especially in the post-pandemic era, we bring a vibrant and stylish alternative to conventional Glass Chains. Despite its stylish appearance, the Multicolour Printed Scarf Sunglass Chain is crafted to be lightweight and comfortable. The plastic chain measures just 10 cm, reducing the weight of the accessory. The rest of the piece comprises the 72 cm scarf, ensuring comfort while adding a unique style element to your look.
Whether you're shopping for Christmas, Black Friday, Boxing Day, or Mother's Day, our Multicolour Printed Scarf Sunglass Chain is a delightful and unique gift option. It serves as an excellent eyeglass chain and an eye-catching accessory. It adds a colourful twist to your ensemble, whether sporting the boho look or going for a more hippie vibe.
Stay trendy, stay comfortable, and let your glasses hang in style with the Multicolour Printed Scarf SunGlass Chain. Remember, every little detail counts in fashion!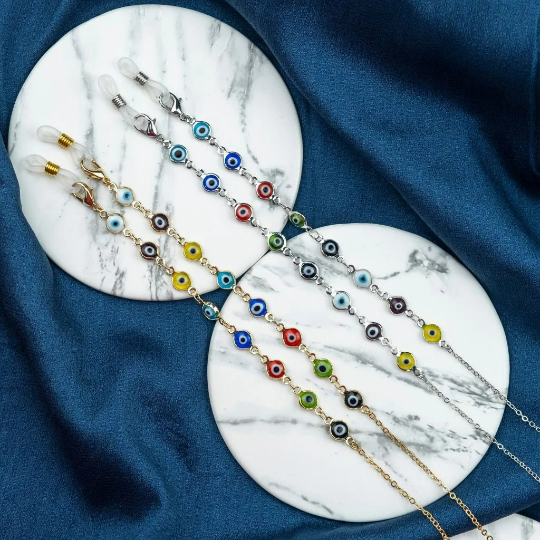 Infused with the symbolism of the Evil Eye, this Reading Glass Chain has been meticulously crafted using radiant Evil Eye Beads. These beads are steeped in history and folklore and are believed to ward off negative energy and bring good luck to the wearer. Further adding to the allure is the two-tone silver and gold plating that lends a touch of sophistication.
Ideal for day-to-day use or as a unique accessory for special occasions, the Colourful Evil Eye Reading Glass Chain straddles both the modern and the traditional. It's a practical way to keep your reading glasses close at hand without compromising on style.
Sized to perfection, we offer this Glass Chain in three lengths: 52cm, 62cm, and 70cm. This ensures a comfortable fit, regardless of your personal preference or need. Secured with a lobster hook and a glass slider hook, you can wear it confidently, knowing it will remain firmly in place.
This Colourful Evil Eye Reading Glass Chain makes an excellent gift from Christmas to Mother's Day, Boxing Day, or Black Friday. The blend of Evil Eye Beads and elegant metalwork makes it a thoughtful present, rich in cultural significance and style.
Whether you are searching for a Sunglass Lanyard, Eyeglass Chain, or Mask Supporter Chain, this product checks all the boxes. Personalisation is also available upon request, enabling you to make it your own.
To maintain the quality of the Colourful Evil Eye Reading Glass Chain, we advise keeping it away from water and avoiding wearing it in the rain. Handle with love, and this exquisite accessory will continue adding colour and charm to your eyewear for years.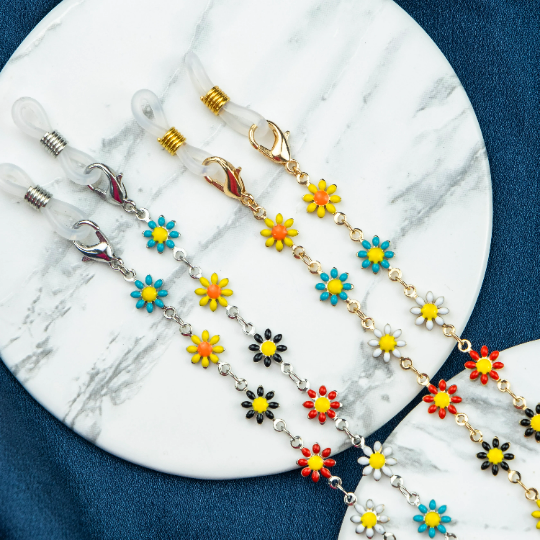 Our Colourful Sunflower Daisy Glass Chain exudes an undying charm that never goes out of style. It's not just a Glass Chain but a piece of art that captures the essence of nature's beauty. Also, remember its practical side. Acting as a Sunglass Lanyard, it offers convenience while you're out and about, ensuring your glasses are always within reach. As a Floral Lynard, it also adds an exquisite touch to your outfits, making you stand out in any crowd.
Embrace the art of accessorising with our Colourful Sunflower Daisy Glass Chain. Remember, this isn't merely an accessory; it's a style statement that mirrors your unique personality and exquisite taste in fashion.
Imagine gifting your mum something as unique as this Sunflower Sunglass Chain on Mother's Day. With its floral elegance, this Glass Chain reminds of blooming flowers during Boxing Day celebrations and adds a cheerful touch to the gloomy winter months. Its versatility also makes it a perfect companion for your Black Friday shopping spree, ensuring your glasses are secure while on the go.
CONCLUSION
In 2023, the UK is witnessing a resurgence in sunglass chains, and The Colorful Aura brings you a collection of trendy and versatile options. The Black Bead Silver Sunglass Glass Chain combines elegance with functionality, offering a detachable feature for style versatility. The Multicolour Printed Scarf Sunglass Chain adds a fashionable twist to the practicality of keeping your sunglasses secure. 
The Colourful Evil Eye Reading Glass Chain incorporates symbolism and sophistication, making it a thoughtful gift choice. Lastly, the Colourful Sunflower Daisy Glass Chain blends nature's beauty with functionality, making it an artful and practical accessory. 
Whether it's for yourself or as a gift for special occasions like Christmas, Mother's Day, Boxing Day, or Black Friday, these sunglass chains from The Colorful Aura elevate your style while keeping your eyewear safe. 
Make a statement and stay on-trend with these stylish eyeglass accessories. Order now to add a touch of sophistication and charm to your eyewear collection.